Diaby feeling great
Arsenal midfielder still not 100 per cent fit
By Patrick Haond. Last Updated: 06/09/12 2:37pm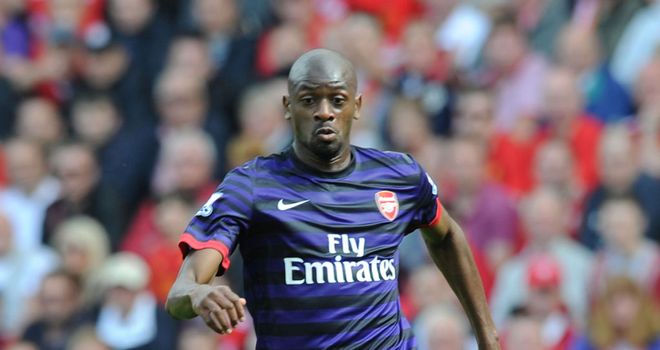 Abou Diaby: Arsenal midfielder returning to form
Arsenal midfield ace Abou Diaby admits he is feeling great about his start to the season, but insists he is still not 100 per cent fit.
The France international has made an impressive opening to the new campaign with the Gunners.
Diaby has been beset by injury woes since moving to Arsenal in 2006 from Auxerre, limiting him to just over 100 league games during his time in North London.
But the all-action midfielder is now confident he is approaching his peak condition following a good pre-season.
"I have been injured for almost one year, so it was difficult," Diaby told a press conference whilst with the France squad.
Better
"Now I am back and I am very happy, and I hope it will go on.
"I feel better and better even if I am not at 100 per cent so far.
"I made a great pre-season preparation. With Arsenal I played every training session and every friendly. We played only three matches, but I am improving.
"I have been often injured but I am not fragile. I just underwent a lot of serious injuries that provoked imbalances in my body.
"I know I have a great opportunity in the French team. I am aware of my responsibilities and I will take them on."
Praise
Diaby was singled out for praise by team-mate Bacary Sagna, who said: "He has been amazing!
"He replied to those who questioned his ability to be back. He is not at his best so far. He will be better and better, and the day the little fear of relapse will disappear, he will be stronger.
"Abou is the best French midfielder."