Del Potro retires Roddick
2003 US Open winners ends career after defeat
Last Updated: 06/09/12 5:30am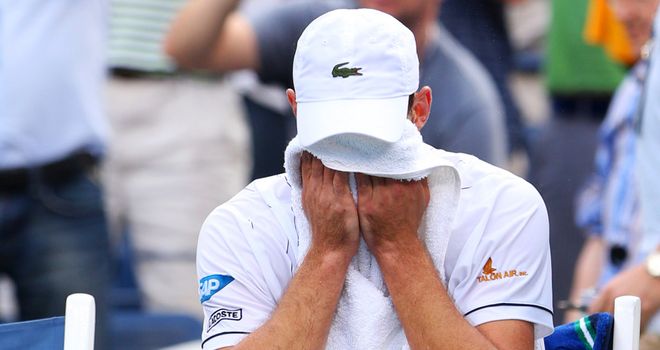 Andy Roddick: Has retired from tennis after defeat to Del Potro
Juan Martin del Potro brought an end to Andy Roddick's career by knocking the American out of the US Open in the fourth round at Flushing Meadows.
Del Potro beat a tearful Roddick 6-7 7-6 6-2 6-4 in what the 2003 champion said was going to be his final tournament.
Roddick received a standing ovation from the packed crowd on Arthur Ashe court after a game in which, at one point, he looked like producing a shock in.
The rain-delayed match started with the opening set tie-break, which Roddick raced through 7-1, but he could not get to Del Potro's serve in the second set and the Argentinian got his revenge 7-4 in another tie-break.
He started to dictate play in the third set and broke Roddick's serve on a couple of occasions to move into the lead, and a single break in the last set was enough to bring an end to the game and Roddick's glittering career.
"For the first time in my career I'm not sure what to say," Roddick told the Arthur Ashe Stadium crowd when handed the on-court microphone.
"Since I was a kid, I've been coming to this tournament and I felt lucky just to sit where all of you are and watch this game and see the champions that have come and gone.
"And I've loved every minute of it.
"One thing I'm not scared about retirement is the people I go home to.
It's been a road, a lot of ups, a lot of downs, a lot of great moments."