Gatland set for Top 14 talks
Lions boss to take in game involving Bayonne and Perpignan
Last Updated: 04/09/12 2:49pm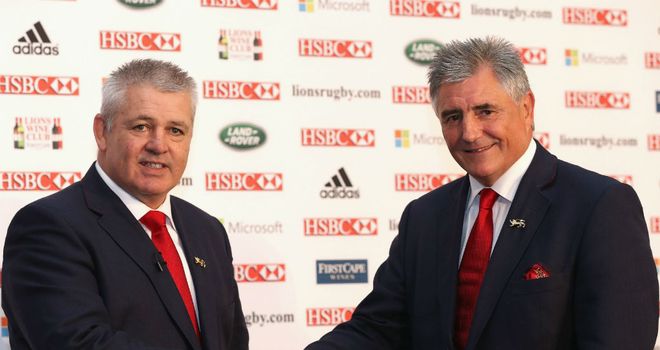 Warren Gatland (left): preferred candidate for the job, according to tour manager Andy Irvine
Warren Gatland will head to France to find out about the availability of Top 14 players for next summer's British and Irish Lions tour.
The New Zealander, who was announced in his new role on Tuesday, will travel on Wednesday ahead of meetings with potential Lions who are currently plying their trade on French soil.
Gatland is planning to speak to Wales duo Mike Phillips and James Hook, two tourists with the Lions back in 2009 who now turn out for Bayonne and Perpignan respectively.
The Top 14 final is scheduled for June 1, the same day as the Lions' tour opener against the Barbarians in Hong Kong.
Players' choice
LIONS LIVE ON SKY
Sky Sports has won the exclusive live rights to the British & Irish Lions tour to Australia next year. Sky Sports viewers will be able to enjoy all three Tests plus seven tour matches in June and July 2013 across TV, PC, mobile and tablet devices. Click here for more information
"I am going to France tomorrow (Wednesday). I will talk to players down there," Gatland said.
"I will watch Perpignan and Bayonne over the weekend. It is a chance to meet with coaches and talk to players and talk about potential release for the Lions players.
"Ultimately it may be up to the players.
"In 2009, Nathan Hines left Perpignan before a final because the Lions meant so much to him as a player.
"As a management board and coaching staff we will have to discuss that because preparation is so tight.
"If it means players aren't available to get on the plane, it may rule them out."
Delayed
The Lions had initially planned to hold the name of their new coach in April but were forced into a delay after Gatland broke both his heels in a fall at his house in Waikato.
Now nearly back to full fitness, the Wales coach will be looking to lead the Lions to their first series victory since the trip to South Africa back in 1997.
"It has been no secret that after the initial selection process, Warren was our preferred candidate," tour manager Andy Irvine.
"We naturally had to ensure he was fit to take up the post. Those concerns have now been addressed.
"Warren has an outstanding coaching record and he has been fully embedded in rugby in the UK and Ireland since 1989."