Bushell sprints to gold
GB wheelchair racer sets Paralympic record in T53 100m
Last Updated: 03/09/12 9:39pm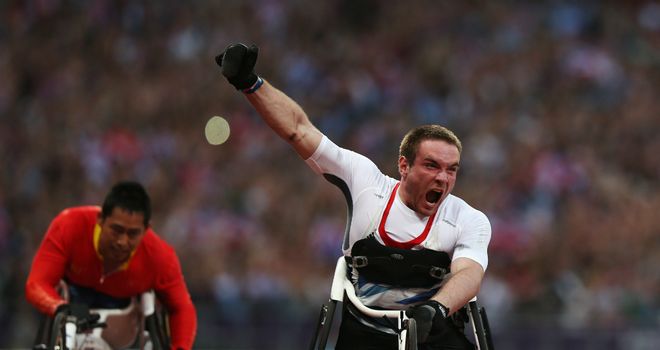 Mickey Bushell celebrates another gold medal for Great Britain
Great Britain wheelchair sprinter Mickey Bushell upgraded his Beijing silver to gold in London with victory in the T53 100 metres.
Bushell, the world record holder, got off to a flying start and raced away from the field to win in a new Paralympic record 14.75 seconds.
The 22-year-old was 0.34 seconds clear of the field as he claimed Great Britain's fifth gold medal in the Olympic Stadium.
He was born with seven vertebrae missing from the lower part of the back.
Bushell, whose win took Great Britain's athletes' total medal tally to 12, revealed he had been inspired by watching David Weir's 5,000m victory.
He said: "Gold was the only thing I wanted. I know I had to work for it, it's been a long, hard four years.
"Last night I watched Dave Weir and as he crossed the line I was bouncing off the walls in my room. I didn't know what to do.
"He's been a massive influence - just as a team-mate, he's been there for me. He was there for me in Beijing as well, even with all the stuff he had to deal with as well.
"He's a fantastic guy, a great role model to look up to."
On the race, he said: "It was fantastic. It went a lot better than I thought. The crowd were fantastic, they definitely pushed me on.
"I nearly cried coming through the line."
Bushell will go for a second gold in the 200m, but admitted this was the title he had been craving, saying: "This is my stronger event. This is the one I wanted."
McKillop double
Ireland's Michael McKillop sealed his status as the world's greatest Paralympic middle-distance runner by making it double gold in London.
The 22-year-old, who has cerebral palsy, obliterated the opposition to claim the most convincing of victories in the T37 1500 metres.
He had a season's best coming into the race more than 20 seconds faster than the next quickest in the field and it proved as comprehensive on the track as it looked on paper.
Content to sit behind Australia's Brad Scott early on, he passed him before stretching clear from way out, already acknowledging the applause of the crowd as he came off the final bend.
His times of four minutes 08.11 seconds was a new Paralympic record and more than six seconds ahead of Scott.
Great Britain's Dean Miller, who had been a medal contender, finished seventh.
McKillop's success came two days after he landed 800m gold in equally emphatic fashion.
And it took Ireland's gold medal total in the Olympic Stadium to three, sprinter Jason Smyth having started the ball rolling.
"It was unreal to come back and try and win the 1500m," McKillop said. "It wasn't in Beijing so to get the chance to run it in London was great because 1500m is my preferred event.
"It's very hard [to do both], but with all the training I have done, I've put in the hard work for months and years and to stand on the starting line and race in the 800 and 1500m in a class that I'm at the top of is an honour. Getting the chance tonight to do it was unbelievable."
Osborne fifth
Forty-nine-year-old Stephen Osborne, a qualified carpenter who only turned to wheelchair racing last year, came fifth in the T51 100m.
The Kent athlete, the oldest competitor in the eight-strong field which had a combined age of 309, clocked 23.40s.
Osborne, competing in his first Games, looked rather bemused by the roar which greeted his introduction to the crowd, but held his form well in the closing stages to come 0.43 behind third place. Ireland's John McCarthy, 38, finished in seventh.