Dzeko bemoans draw luck
Striker reflects on City's placing in another tough group
By Jure Bohoric. Last Updated: 03/09/12 3:10pm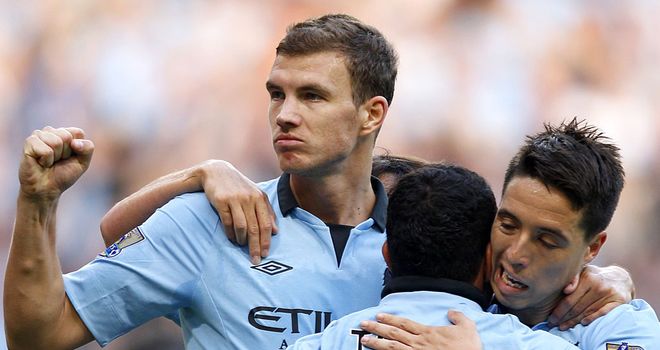 Edin Dzeko: Looking forward to taking on the might of Real Madrid
Edin Dzeko believes luck deserted Manchester City for the second successive year as they were handed another tough UEFA Champions League draw.
The reigning Premier League champions crashed out of Europe's premier club competition last season after being edged out by Bayern Munich and Napoli.
Roberto Mancini had been hoping to make more of an impact in the tournament this time around, but has seen City dropped into a competitive group.
If the Blues are to make it to the knockout stage, they will need to safely negotiate tricky tests against Real Madrid, Borussia Dortmund and Ajax.
Dzeko admits being drawn alongside the champions of Spain, Germany and Holland is far from ideal, but he feels City are capable of coming through a sizeable challenge.
"We were in the group of death last season and now we are in it again," the Bosnian striker told SportSport.
Tight
"We really didn't have any luck in Monte Carlo.
"The group will be great to watch, but not so great to play in. But we know what we are capable of and we don't fear anybody.
"I believe it will be a tight race and it will be interesting to see who will go to the next round.
"Whoever finishes first and second in the group will be big favourites to win the competition. I hope we don't make the same mistakes as last season.
"Who are the favourites? Real Madrid, of course.
"I can't wait for the opening match at Santiago Bernabeu. That will be a great spectacle and I hope that we can show in Madrid what we are capable of and how strong we are."