Robson on the rise
Robson can reach the top, say Greg and Annabel
Last Updated: September 3, 2012 1:27pm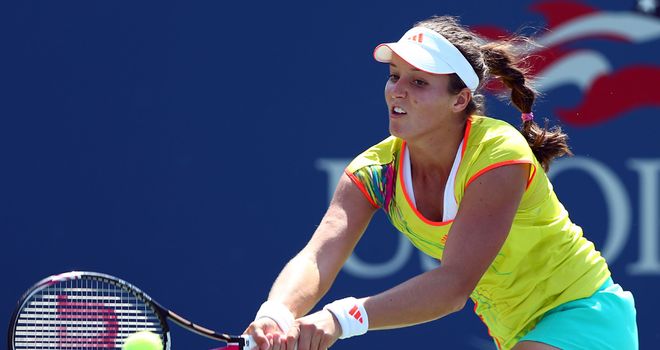 Out but not down: Robson will rise up the rankings after US run
Britain's Laura Robson has shown she can reach the top of the game after her impressive week at the US Open, Greg Rusedski told Sky Sports.
"He's like a pirate - he reminds me of Jonny Depp with a tennis racket! "
Annabel Croft on Fognini Quotes of the week
After defeating Samantha Crawford and then knocking out heavyweights Kim Clijsters and Na Li, Robson eventually fell to reigning US Open champion Sam Stosur on Sunday night.
Her run in New York should see her ranking rise to around 75 in the world, though, and Rusedski believes the Brit has shown she has the skills to eventually reach the top 10.
"The potential of Laura Robson is so, so positive," he said. "To get to the fourth round for the first time is an excellent result. There are so many things to work on as well, so for me there's nothing but positives for Laura.
"I think the goal is to be in the top 50 by the end of the year and then in the next year or two you'll be hoping she can be top 20, if not top 10. The potential is limitless."
Annabel Croft agreed. "Laura's got so much firepower; she's a really exciting tennis player," she said. "Some of the winners she was hitting were drawing gasps from the Louis Armstrong stadium. She has a good weapon in her serve when it's firing, her movement has improved exceptionally and she's a great tactical player.
"When I look at Petra Kvitova, she's not that dissimilar to Laura - and Kvitova is a Wimbledon champion. So the sky's the limit - and she will have earned herself a lot of locker-room respect over the last week."
Tactical win
Analysing the defeat, Rusedski suggested Robson was perhaps too ambitious with some of her shot selections, but praised the tactics of Stosur, who adapted her game to beat the left-handed Robson.
"Laura started the match off absolutely brilliantly - she couldn't have got off to a better start," he said.
"She was up a break 2-1 and at 40-15 serving, but she hit a double fault, allowed Stosur to break back and then really the match swung in the 4-4 game in the first set. Stosur had two double faults, Robson had a few break points, but didn't make her play enough and was forcing it too much.
"It's been a great run for Robson but she went for too much. She wasn't as controlled and composed as she was in her previous two matches. But you have to give credit to Stosur. She kept her nerve, she stayed solid.
"Tactically Stosur and her coach Dave Taylor played a blinder. Usually Stosur kicks her serve down the 'T' on deuce and kicks it out wide on the advantage, but she actually served the slice out wide quite a bit and only used those kick serves at key moments. Tactically they got it right against Laura."
Roddick run goes on
Meanwhile, Andy Roddick again delayed his retirement with a 7-5 7-6 (7-1) 4-6 6-4 win over Fabio Fognini.
Rusedski said: "Since he's announced his retirement he's been playing better than ever. Everyone's saying, 'come on Andy, give us one more year!'
"He found a way to lift his game because Fognini was a dangerous opponent, although he's just not mentally tough enough, while Roddick is tough as nails.
"What an effort from Roddick - and who knows he could keep his run going against Del Potro in the next round.
"Roddick is down 3-1 on the head-to-head but he won the last time they played and if you think of that you've got to believe in destiny and miracles there.
"Roddick is going to have to lift his game because Del Potro is looking awfully good but the crowd of 22,500 is going to be on Roddick's side, which is a huge advantage."
Croft was also impressed by the rising Italian Fognini and believes he has a bright future in the game.
"He's only 25 years of age but he's so talented," she said. "From what I understand all the top players love to hit with him because he's a wonderful ball striker; he has incredible feel and touch.
"He does a lot of interesting stuff out there. He's like a pirate! He reminds me of Jonny Depp with a tennis racket. He's fun, he brings personality out on court and I'd like to see him do well in the future."