Give us a twirl
England's slow bowlers stymied South Africa's innings, says Mikey
Last Updated: September 3, 2012 10:59am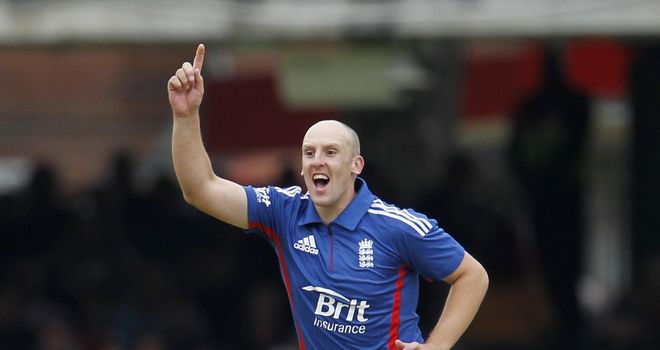 Job 'Well done: Kent spinner Tredwell claimed three scalps at Lord's
Michael Holding told Sky Sports that England's spinners played fundamental roles in their side's victory over South Africa in the fourth ODI at Lord's.
"When Bell bats like he did in this innings it is going to be difficult for any team to restrict him."
Mikey Holding Quotes of the week
James Tredwell, who has replaced the rested Graeme Swann for this series, snared three wickets, while fellow twirler Samit Patel bowled economically as the hosts restricted the Proteas to a total of 220 on Sunday.
Ian Bell's elegant 88 saw Alastair Cook's men reach their target with 20 balls to spare, but former West Indies seamer Holding reckons the team's slow bowlers set up the triumph, which gave England a 2-1 lead in the series with one match remaining.
"The spinners turned the ball and that contributed to South Africa's downfall," said Holding. "Tredwell bowled very well and while Patel wasn't successful in terms of wickets he put the brakes on South Africa.
"At the start of the day I thought there would be a lot more runs; the pitch looked fantastic and the ball seemed to be coming onto the bat and players were playing their shots.
"But for one reason or another, batsmen were struggling to time it. It wasn't because of a lot of lateral movement or because the balls were stopping but perhaps it was because the bounce wasn't as consistent as the players would have liked."
On England's batting star Bell, who was backed up by a knock of 48 from Warwickshire colleague Jonathan Trot, Holding added: "We have seen enough of Bell now to know that he is a very good player.
"When he bats like he did in this innings it is going to be difficult for any team to restrict him; he plays all around the wicket and in this game he sauntered down the pitch and played some fantastic shots."
Fiddle
South Africa saw England overhaul their score for the second contest running - the tourists' total of 211 was eclipsed by the hosts at The Oval on Friday - and ex-Proteas paceman Shaun Pollock says AB de Villiers' charges must improve their middle-order batting.
"South Africa will feel like they let themselves down today (Sunday)," he said. "There were some average shots in the middle order and they have got to get more consistent in that area if they want to be ranked number one.
"You have to put England's top three batsmen (Bell, Cook and Jonathan Trott) under pressure but if you put 220 on the board, Trott can fiddle around, play at his own pace and pick up runs when he wants.
"However, if you set 270, he has to pick up the scoring rate, might have to play something loose, and might get out - and then the middle order of England, which is a little inexperienced, might be under pressure."
"South Africa need to do some soul searching, come up with a better batting plan and see how they can dominate England's attack; the middle-order have to take some responsibility."
The final ODI of the five-match series, which takes place at Trent Bridge on Wednesday, will be live on Sky Sports 1 HD from 1.30pm.