Brit duo bounce back
GB pair blow away day three disappointment with 200m scorcher
Last Updated: 02/09/12 12:55pm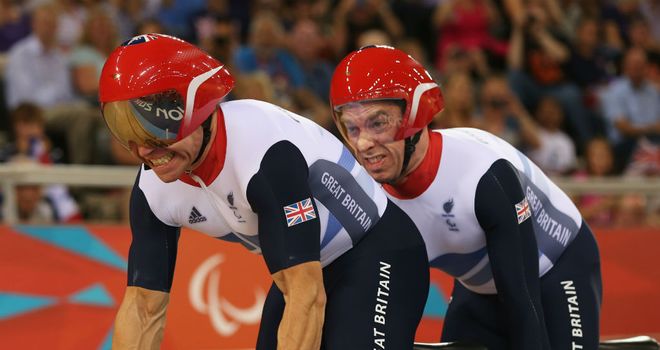 Anthony Kappes and Craig MacLean: World record
Great Britain's Anthony Kappes and Craig MacLean set a blistering world record in qualification for the men's tandem sprint at the velodrome on Sunday.
Kappes and MacLean had suffered bitter disappointment on Saturday when they were ruled out of the one-kilometre time-trial after suffering mechanical failure.
Gold in that event went to GB's Neil Fachie and Barney Storey in world record time, but just a day later it was the turn of the other British pair to show just how quick they could go.
Kappes and MacLean powered into the semi-final clocking 10.050 seconds over the flying 200metres, breaking Fachie and Storey's world record of 10.282secs along the way.
Fachie and Storey also went under their own previous world record clocking 10.165 to finish second fastest of the seven teams and earn a place in the quarter-finals.
Because of the number of teams in the event, Kappes and MacLean's fastest qualifying time sees them skip the best-of-three quarter-finals and move directly into the last four.
And with the top two ranking pairs being from the home team there is a distinct possibility that the final could be an all-British affair.