MLB: Baltimore closing in
Gonzalez shines for Orioles against Yankees
Last Updated: September 1, 2012 8:21am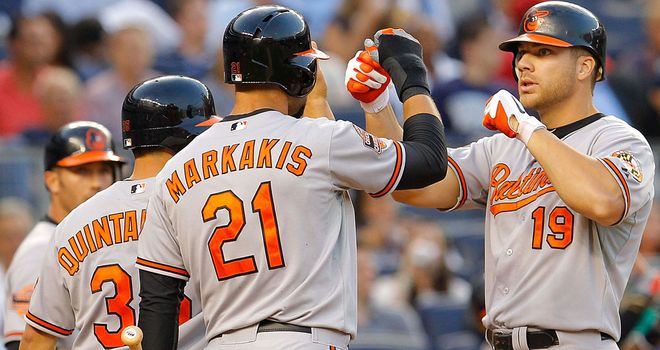 Baltimore Orioles: Too strong for New York Yankees
Baltimore closed within two games of New York at the top of the American League East with victory over the Yankees on Friday night.
Orioles' rookie pitcher Miguel Gonzalez struck out a career-high nine batters over seven shutout innings and Mark Reynolds hit two home runs in the 6-1 success.
That took the Orioles two games behind the Yankees, the closest they have been since a one-game deficit on June 22.
Less than a month later the Yankees were 10 games in front, but the Orioles have been closing the gap ever since with 18 wins in their last 25 games.
The Tampa Bay Rays are two and a half games further behind after losing 2-1 to the Toronto Blue Jays.
Command
In the AL Central, the Detroit Tigers also pulled within two games of leaders Chicago, beating the White Sox 7-4 in the first contest of a three-game series.
The Texas Rangers remain in command of the AL West after beating the Cleveland Indians 5-3.
In the NL East, the Washington Nationals thrashed the St Louis Cardinals 10-0 to extend their lead over the Atlanta Braves to six and a half games.
The Braves went down 8-5 to the Philadelphia Phillies, for whom Erik Kratz homered in the ninth inning and John Mayberry hit a three-run shot in the 10th to secure the win.
At the top of the NL Central, the Cincinnati Reds enjoyed a fourth straight win with a 9-3 success over the rock bottom Houston Astros.
Pittsburgh remain half a game behind St Louis in the NL wild-card race after losing 9-3 to the Milwaukee Brewers, while the San Diego Padres beat the Colorado Rockies 5-4.
In the NL West, the San Francisco Giants went down 6-4 to the Chicago Cubs but remain four games clear of the Los Angeles Dodgers, who lost 4-3 to the Arizona Diamondbacks after 11 innings.
Elsewhere, there were emphatic wins for the Oakland Athletics, who thrashed the Boston Red Sox 20-2, and the Los Angeles Angels, who beat the Seattle Mariners 9-1.
RA Dickey pitched a five-hit shutout for his 17th win as the New York Mets beat the Miami Marlins 3-0, while the game between the Minnesota Twins and Kansas City Royals was postponed due to rain.