Derenalagi aims high
Former soldier has been training hard through frustrations and pain
Last Updated: 31/08/12 4:46pm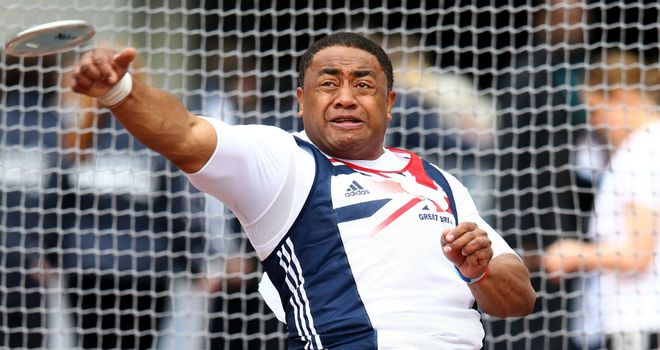 Derek Derenalagi: Will be a star when he competes at the Paralympic Games
In terms of tales of fighting back from the brink, they do not get much more inspiring than Derek Derenalagi.
"I love to put a smile on someone's face. "
Derek Derenalagi Quotes of the week
The Fijian-born powerhouse was seconds away from making the ultimate sacrifice for Britain as he was given up for dead following a Taliban bomb blast five years ago.
On Friday night, the former soldier will once again do his nation proud as he takes his place in front of a roaring home crowd in the Olympic Stadium for the discus final.
The appearance marks an astonishing journey for the 37-year-old, which he hopes will culminates in a podium place.
Speaking before the Games, he said he had been doing everything in his power to ensure he was as mentally and physically strong as possible.
Smile
He said: "Fingers crossed and hopefully the whole nation will get behind not just me, but the whole Paralympic squad to win more medals for Great Britain.
"I love to put a smile on someone's face - whether it is a child who has been born with a disability or someone who has gone through a tragedy, or an injured soldier.
"Putting a smile on someone's face is more rewarding to me than money."
Derenalagi lost both legs in a blast when the Land Rover he was travelling in rolled over a landmine in Afghanistan.
The explosion threw him 30 yards and blew off his left leg above the knee and left his right leg a tangled mass of blood, tissue and bone.
He fell into a coma and nine days later when he woke he realised just how close to death he had come.
Medics told him he had been officially pronounced dead and a body bag was being prepared, when a slight pulse was found.
He was flown to Birmingham's Selly Oak Hospital before being moved to the Ministry of Defence's rehabilitation unit at Headley Court, Surrey.
Battle Back
Within a week he was standing up, bearing his entire weight on his stumps.
In 2008, the keen sportsman - he was a former rugby union player - and five other injured servicemen, as part of the MoD's Battle Back programme, were invited to try out a number of Paralympics sports.
Experts identified his heavy build as an ideal candidate for the discus, which he excelled at, becoming the European champion earlier this year.
He goes into Friday night's final ranked fifth in the world.
In the run-up the Games, Derenalagi has been training hard through the frustrations and pain of adapting to two new prosthetic legs, called a Genium knee, in his quest for gold.
He competes in the F57 category for athletes with spinal cord injuries and amputations.
Technique
In training daily on his new legs and hitting the gym with a vengeance, Derenalagi has been trying to improve and tweak his throwing technique.
He has been working on developing the power in his throw to enable him to start from his seated position.
He is the first double amputee to walk on the Genium knee having only been fitted with them on the day of the opening ceremony for the London Olympics.
An expected packed crowd in the Olympic Stadium will roar him on from 7pm on Friday.