MLB: Hero then villain
A review of Wednesday's Major League Baseball action
Last Updated: 30/08/12 8:34am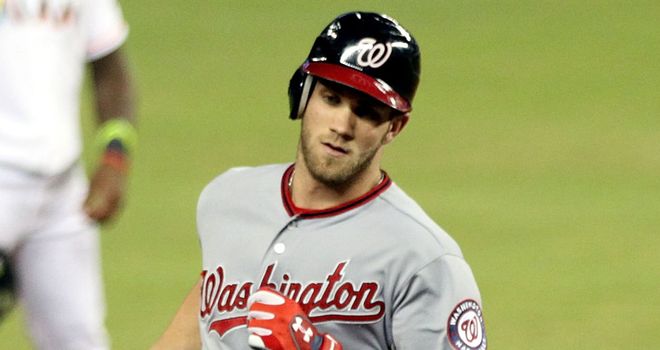 Bryce Harper: Ejected from the game
Teenager Bryce Harper went from hero to villain as as the Washington Nationals ended a five-game losing streak by beating the Miami Marlins 8-4.
Harper hit a two-run homer in the fourth inning and added a solo homer in the fifth, but after grounding into a double play in the ninth, the 19-year-old spiked his helmet in frustration and was ejected by the umpire.
At least Harper managed not to hurt himself this time. The quick-tempered youngster famously slammed his bat against the side of a tunnel in May, only for the barrel to bounce back off the wall and hit him above the left eye, causing a gash that needed 10 stitches.
Three-hitter
Elsewhere, Chris Heisey hit two of Cincinnati's four home runs as the Reds came from behind to beat the Arizona Diamondbacks 6-2, while White Sox rookie Dylan Axelrod took a three-hitter into the eighth inning as Chicago beat the Baltimore Orioles 8-1.
That defeat saw the Orioles overtaken in the American League wild-card race by the Oakland Athletics, who beat the Cleveland Indians 8-4.
Josh Donaldson hit a three-run homer as Oakland claimed their 11th win in 13 games.
The Milwaukee Brewers enjoyed a 3-1 win over the Chicago Cubs, while Joe Blanton pitched effectively into the eighth inning for his first win with the Los Angeles Dodgers in a 10-8 success against the Colorado Rockies.
Hunter Pence hit a three-run homer to help the San Francisco Giants to a 6-4 win over the Houston Astros, while the Kansas City Royals beat the Detroit Tigers 1-0.
Hammered
Another shutout was far more comprehensive as the Minnesota Twins beat the Seattle Mariners 10-0, while Yunel Esccobar hit a two-run homer, three doubles and drove in five runs as Toronto beat the New York Yankees 8-5.
The New York Mets beat the Philadelphia Phillies 3-2 for their fourth straight win, while Pedro Alvarez hit his 26th homer of the season and drove in three runs as the Pittsburgh Pirates beat the St Louis Cardinals 5-0.
Elsewhere, the San Diego Padres beat the Atlanta Braves 8-2, the Tampa Bay Rays hammered the Texas Rangers 8-4 and the Los Angeles Angels thrashed the Boston Red Sox 10-3.