Cook - Huge boots to fill
New England Test captain excited about the future
Last Updated: 29/08/12 1:38pm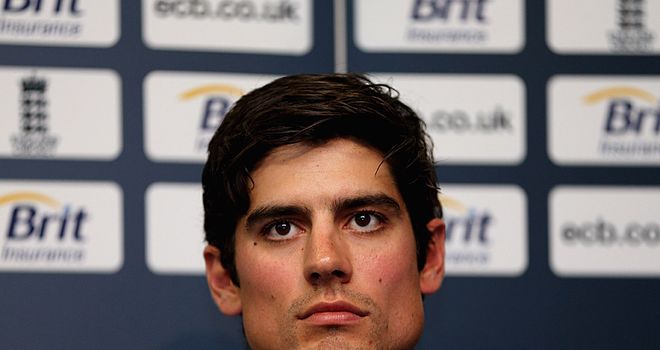 Alastair Cook: succeeding Andrew Strauss as England Test skipper
Alastair Cook is ready for the challenge of leading England in Test cricket but admits his predecessor Andrew Strauss has set the bar high.
Cook already captains England in ODIs and will now step up to the top job in the five-day format following his opening partner Strauss' decision to retire from professional cricket.
Under Strauss' leadership England won Ashes series home and away and claimed top spot in the world rankings for a period of year, which ended with their series defeat to South Africa this summer.
"I'm inheriting a side in a very good state and that's a good place to be as a captain."
Alastair Cook Quotes of the week
Cook's first assignment is a tour of India in November and, a little further ahead, there is back-to-back Ashes campaigns to look forward to.
"I'm incredibly proud to be sitting here now as captain of England. It's a huge honour. I'm very excited about the challenge," said Cook at a press conference at Lord's.
"I've got huge boots to fill, following Straussy who has done an incredible job.
"I'm really excited about the challenge ahead, we've got India away and two Ashes series in the next 18 months. There is a lot of cricket to play and hopefully I can do a good job.
"You've got to throw yourself into it, meet the challenge head on and I hope can do that and have got the leadership qualities required."
Inheritance
Cook knows there is little time for him to feel his way into the job.
"We've got such huge challenges to come as side that we have to move on quickly, that's the way of sport goes," he added.
"In the dressing room we'll share a beer for Strauss and remember the amazing job he's done for this team.
"I'm inheriting a side in a very good state and that's a good place to be as a captain.
"Hopefully there is a lot of good times to come and I know the players will be driving to get English cricket back to the top again."
Unresolved
One issue that remains unresolved is the future of Kevin Pietersen, who was dropped for the final Test against South Africa after admitting he sent "provocative" texts to South Africa's players, reportedly including criticisms of Strauss.
"I've been outside of this for a lot of the saga," said Cook.
"The issue hasn't really changed. I will get involved over the coming weeks but this will happen behind closed doors before we can move on as an England side."