GB's dual ambition
Great Britain chasing at least 103 medals at Games
Last Updated: 28/08/12 9:57am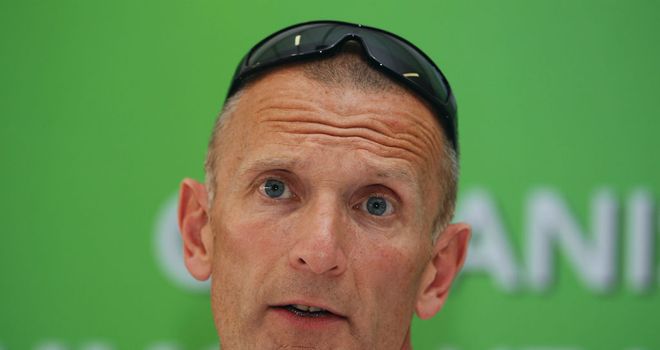 Craig Hunter: Announced two main aims for the GB team
GB's Paralympic team will bid to hit a medal target - and change people's perception - at London 2012.
Chef de mission Craig Hunter is optimistic the 300-strong team will meet their medal target of 103 - one more than they managed in Beijing four years ago - and enhance understanding of disability in the process.
The British team are set to be the last of the 166 nations welcomed into the Paralympic Village in Stratford on Tuesday as 4,280 athletes prepare to compete to win 503 gold medals across 20 sports from Thursday.
Four years ago GB won 42 gold and 102 medals in all to finish second in the medal table behind hosts China, who claimed 89 gold and 211 in all.
"We have two ambitions for this team - one is around medal targets and performance and the other is around perception,'' Hunter said.
"We want to use the power of sport to change the way people think, feel and behave towards disability and our athletes are absolutely determined that their performances will inspire young people to get involved in sport or get involved in something to enrich their lives.
Amazing opportunity
"This is an absolutely amazing opportunity, not only here in the UK but around the world.''
Britain won six more gold medals than the United States in Beijing in 2008 and face competition from the likes of Ukraine, Brazil and Australia across 11 days of action this time round.
Hunter added: "It's a tough target; it's one more than we won last time. We absolutely hope we can surpass that, but we know the competition is going to be tough. Our aspiration is to win more medals across more sports.''
Hunter, who was England's chef de mission at the 2010 Commonwealth Games in Delhi, is excited ahead of Wednesday's opening ceremony and the Games commencing and is not yet considering his personal future beyond the September 10 parade of Britain's Olympic and Paralympic athletes.
"I joined the team a year ago,'' he said. "I'm enormously proud to be associated with this team. When we walk out at the opening ceremony on Wednesday night I will probably be the proudest person in the world.
"I've got to deliver our most successful Paralympic team ever, so I'm just worrying about the opening ceremony, 11 days of competition and having a glorious celebration with our Olympic counterparts in the parade and then we'll have to think about the future.''