Bees sting hapless Hammers
Harris stars for Coventry in convincing Elite League victory
Last Updated: 20/08/12 10:53pm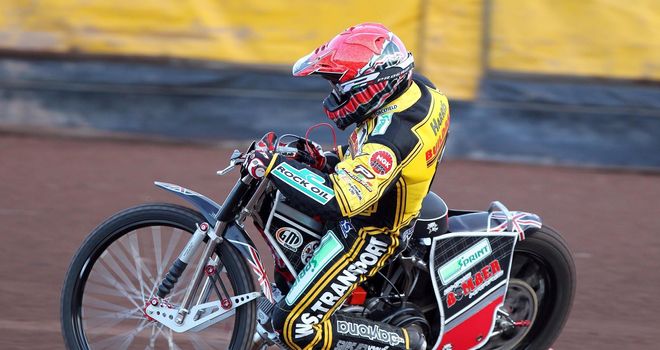 Chris Harris: Led the way for Coventry in their victory over Lakeside
Coventry Bees claimed a one-sided 60-31 Elite League triumph over Lakeside on Monday as the Hammers' play-off hopes suffered another blow.
Lakeside have long been a fixture in the top four of the standings, but are now struggling for form as the business end of the season approaches.
Chris Harris (15+1) starred for the struggling Bees as they secured a welcome win at Brandon Stadium, while young Australian Justin Sedgmen (11+1) emerged as top-scorer for the Hammers.
The visitors made a decent start as Davey Watt led home a 4-2 in the first heat and Sedgmen won the second to clinch a share of the spoils as Lakeside opened a 7-5 lead.
But it was downhill from there as Coventry won four of the next five heats 5-1 to storm into a 28-13 lead that they never looked like relinquishing.
Peter Karlsson finally earned Lakeside's third race win in heat ten but it was only good enough for a 3-3 as the Bees continued to dominate.
When Coventry reserve Aaron Summers then defied the exclusion of team-mate Michal Szczepaniak to take heat 11, finishing ahead of Davey Watt who was on double points and limiting the Hammers to a 5-3, the game was up for the visitors.
There was more bad news for Lakeside as play-off rivals King's Lynn made up considerable ground with a dominant 55-38 victory at Belle Vue.
Maciej Janowski and Mads Korneliussen 10+1 both chipped in with 10+1 points for the Stras, while Rory Schlein contributed 14+1 for the Aces.
However, Birmingham spurned their chance to increase the pressure on Lakeside as they slumped to a 53-40 loss at Wolverhampton.