Lampard hails Hodgson impact
Lampard believes there will be gradual change under coach
Last Updated: 18/08/12 1:34pm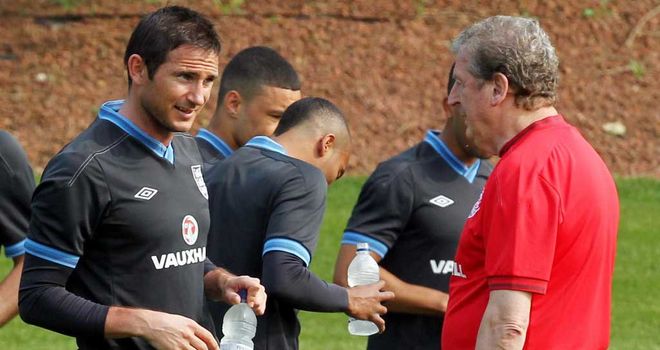 Frank Lampard: Looking for England to push on under new boss Roy Hodgson
Frank Lampard believes England are progressing under new boss Roy Hodgson but stressed the importance of players embracing his ideas.
Stand-in skipper Lampard revealed Hodgson has put a greater accent on England retaining possession and believes there will be more gradual changes during the next few months.
The initial results were encouraging with England far more comfortable in possession during Wednesday night's 2-1 friendly win over Italy in Berne than had been evident in their Euro 2012 quarter-final clash against the Azzurri.
Lampard said: "He (Hodgson) had little time to prepare before the Euros which made it difficult for him to get his complete imprint on the team.
"Of course, you can't compare this game with Italy with the one in the summer because tournament games are the ones you want to win.
"But the manager and his staff have made a big thing of trying to keep the ball more, trying to be positive with our football but keeping the ball, knocking it around and playing from midfield.
"That was the emphasis in training for the past two days and, when you try and do those things in training, and see it work in the game, that's when you know we've had a good few days together."
Played well
Lampard added: "In the tournament, the team played well and, with the flip of a coin, you win the penalty shoot-out and are in the semi-finals and it could be different.
"But there is always time for improvement. As a group collectively we want to improve and the manager made that point.
"I think in the next few months there will be gradual change and it is up to us as players to take it on board.
"You can have the best manager in the world but us players need to try and react, listen to what is happening in training and try and do it out on the pitch.
"It is easy sometimes to do it in training but when you step out into a competitive arena it can be difficult and this Italy game was a good step for us.
"We have done it in a friendly, it is important we do it in next month's games (World Cup qualifiers)."