Laxman calls it quits
India batsman retires from international cricket
Last Updated: 18/08/12 5:55pm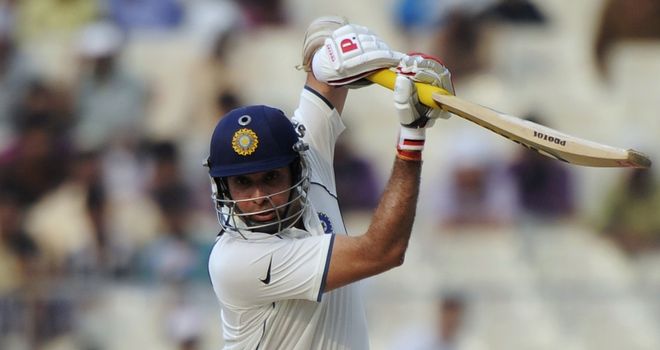 VVS Laxman: scored 17 Test centuries, with six of them coming against Australia
India batsman VVS Laxman has announced his retirement from international cricket with immediate effect.
Fact file
1974: Born Hyderabad, November 1.
1996: November 20 - Makes a half-century on his Test debut against South Africa in Ahmedabad.
2000: January 4 - Scores his first Test century and begins his torment of Australia with 167 in Sydney.
2001: March - Produces one of the most memorable innings of all time as an epic 281 leads India to victory after they were asked to follow-on by Australia in Kolkata.
April 6 - Scores his first ODI century against Australia in Margao.
2003: December - Centuries in Adelaide and Sydney help India claim a 1-1 series draw in Australia.
2004: January 24 - Scores his highest ODI score, 131 against Zimbabwe in Adelaide.
2008: November - Plays his 100th Test in Nagpur as India win their series against Australia.
2010: February - Continues his impressive record at Eden Gardens with his fourth century in nine Tests at the ground against South Africa.
October - Breaks Australia hearts yet again when, after India slumped to 124-8 chasing a victory target of 216, his unbeaten 73 steers them across the line with a wicket in hand at Mohali.
2012: August 18 - Announces his intention to retire with immediate effect.
The right-hander, 37, played 134 Tests for India, making 17 hundreds - including six against the Australians - during his career.
His highest score of 281 came at Kolkata in one of the most memorable Test matches of all time, sharing in a record partnership with Rahul Dravid which ultimately ended Australia's 16-match winning streak.
Laxman's recent form was not good enough to guarantee him a place in the middle order and the decision to retire has been made before the start of the upcoming Test series with New Zealand.
"I have decided to retire from international cricket with immediate effect," he said.
"It's been 16 years since I have made my international debut for India and I think it is the right time to move on.
"As a youngster it was a dream to represent India and it took a lot of pride to wear the India cap."
Laxman made 8,781 Test runs at 45.97 in total, while he also managed six one-day international centuries in 86 matches between 1998 and 2006.
Conscience
He added: "I have always kept the country's success and needs ahead of my personal aspirations and I would have loved to contribute to the team's success especially against England and Australia later in the season.
"I think it's the right time to give opportunity to a youngster in home conditions before the tough overseas tours next year.
"It has been a very tough decision for me. Late until last night I was not able to make up my mind.
"I have always listened to my inner conscience. It was also one reason why I took cricket as a career. I always wanted to become a doctor.
"At the age of 17, my inner voice said that I want to become a cricketer which was definitely a tougher career path. But I listened to that inner voice which I consider a divine voice."
The Board of Control for Cricket in India (BBCI) president N. Srinivasan described Laxman as one of his country's best.
"Not many batsmen made batting look as easy as VVS Laxman. He was an exceptional cricketer, who excelled in pressure situations," Srinivasan said in a statement.
"If a cricketer's greatness is to be measured in terms of his performances against the best opposition of his time, then Laxman stands right at the top.
"His record against Australia, the world's number one team for the better part of his career, speaks for itself."