Audley: I paved the way
Harrison believes his success in Sydney was a game-changer
By Adam Norman - Twitter @SkySportsNorm. Last Updated: 12/08/12 9:58am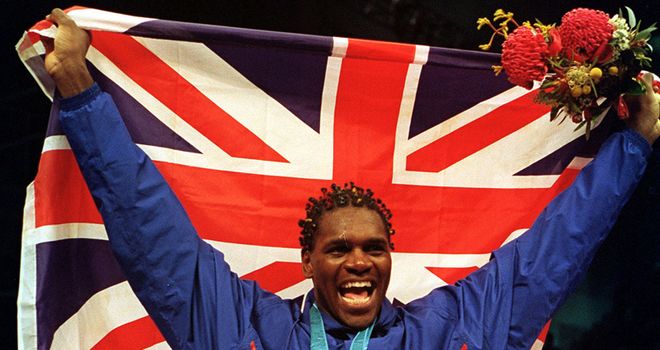 Audley Harrison: Did not have the benefit of lottery funding
Audley Harrison says his gold medal in Sydney 12 years ago paved the way for Britain's subsequent success at the Olympics.
Harrison did not have the benefit of state funding during his amateur career but, he says, thanks to his efforts, the amateur game is better off.
"When I look back I know how proud I am of my contribution to Olympic style boxing."
Audley Harrison Quotes of the week
Amir Khan was Britain's only representative in Athens but after James DeGale led the way with gold four years later, Rob McCracken's London 2012 team has taken the Games by storm.
Anthony Joshua, Luke Campbell and Fred Evans will all fight for gold over the weekend, while Nicola Adams (gold) and Anthony Ogogo (bronze) have already secured medals.
"Boxing wasn't a lottery funded sport in 1998, I had a lot of offers from the likes of Frank Warren to turn pro," he said.
"After I won the Commonwealth Games in 1998, I sat down with them said 'If you want me to win gold in Sydney, I've got to get paid. This sport needs to become funded because otherwise I'm going to turn professional'.
"So I set up a boxing union, and with my gold medal it's part of the reason why boxing is now a lottery funded sport.
"So when I look back I know how proud I am of my contribution to Olympic style boxing."
Last chance
A dozen years on from his Sydney triumph, Harrison is still trying to build his legacy in the pro ranks.
On October 13 he takes on current British and Commonwealth champion David Price - a bronze medallist in Beijing - in what even he describes as his 'last chance'.
Harrison won the European title despite fighting Michael Sprott one-handed after injuring a pectoral muscle early in their fight in 2009, but a subsequent world title clash with David Haye ended in farce, with the former Olympic champion knocked out after three rounds in which he barely threw a punch.
"Going professional hasn't worked how I wanted it, I can't deny it, I should be a world champion already," he added. "But ultimately this fight will be about trying to reverse that.
"The lessons have been great lessons to learn, and I'm using them, I'm a complete individual. Boxing is the last part of my life to fix. I'm very stable right now.
"The guy who will turn up on October 13 is the guy who won the gold medal, and the guy who fought Michael Sprott with one arm. And as David Price recognises, that guy is a serious test for him."