Burroughs cashes in
American scoops not only gold but also huge cheque
Last Updated: 10/08/12 9:32pm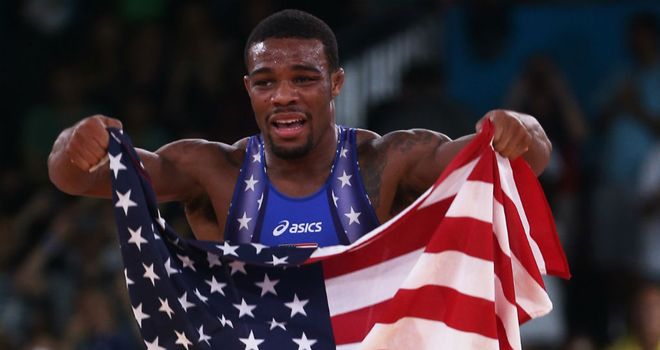 Jordan Burroughs: claims a cash prize of 250,000 US dollars
Jordan Burroughs secured the United States their first wrestling gold at London 2012 - and with it a cheque for a quarter-of-a-million dollars.
The confident 24-year-old defeated Iran's Sadegh Goudarzi 1-0 1-0 in the -74kg freestyle event, clinching the second period when he picked up Goudarzi and dumped him off the mat with barely 10 seconds left.
As well as his medal, Burroughs leaves England with a cash prize of 250,000 US dollars as part of a commitment by USA Wrestling to honour any wrestler who tops the podium at the Games.
Uzbekistan's Soslan Tigiev and Russian Denis Tsargush received bronze medals in the weight division.
Russian glory
Russia claimed their fourth wrestling gold of London 2012 after Dzhamal Otarsultanov beat Vladimer Khinchegashvili in the -55kg freestyle final.
Otarsultanov, who had never wrestled in a senior world championships before he came to London, proved to be too good for his 21-year-old Georgian opponent, winning 1-0 4-3.
Otarsultanov won a leg grapple in the first period and looked set to cruise to victory after moving ahead in the second.
Khinchegashvili did manage to throw his opponent in the last few seconds of the fight, but the referee ruled the move did not deserve a point and Otarsultanov claimed victory amid boos from the Georgians in the crowd.
Roman Vlasov, Alan Khugaev and Natalia Vorobieva had already claimed gold at the Games for Russia, who have also claimed three bronze medals and one silver.
Shinichi Yumoto of Japan and North Korea's Yang Kyong Il claimed the two bronze medals on offer in the weight category.