Taylor wins triple jump
Longest jump in the world this year earns USA another gold
Last Updated: August 9, 2012 10:48pm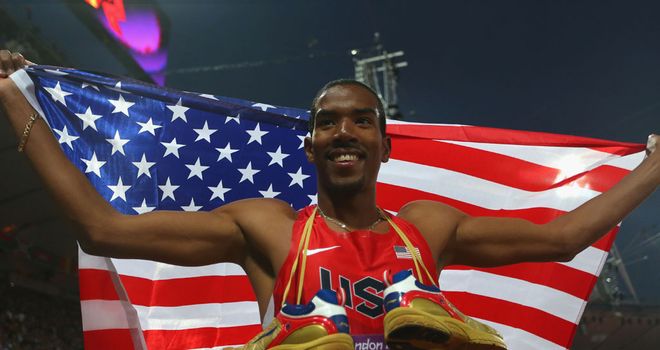 Taylor celebrates his triple jump triumph
American Christian Taylor added the Olympic title to his world triple jump crown with a superb jump of 17.81 metres.
The 22-year-old had been in danger of bowing out of the competition after fouls in the first two rounds, but earned himself three extra jumps with a leap of 17.15m in the third round.
And he made the most of that reprieve by soaring out to 17.81m in the next round - the longest in the world this year - to finish 19cm ahead of team-mate Will Claye (17.62m), with Italy's Fabrizio Donato taking bronze with 17.48m.
"I'm so honoured," Taylor said. "It's such a blessing to share this moment with my family. I played this like another meet but the energy that 80,000 people bring is just phenomenal."
Amazing Ashton
There was more joy for the United States as decathlon world record holder Ashton Eaton claimed gold.
Eaton took a 151-point lead over team-mate Trey Hardee into the 1,500m and finished ahead of the two-time world champion to end up 198 points clear after two gruelling days of competition.
Eaton's score of 8,869 was 24 short of the Olympic record, with Hardee recording a season's best of 8,671 and Cuba's Leonel Suarez also managing a season's best of 8,523 to claim bronze.
Javelin joy
Elsewhere, Czech Barbora Spotakova successfully defended her javelin title with a throw of 69.55m.
Each of the 31-year-old's first four throws were over 66 metres and would have been good enough for victory, with Germany's Christina Obergfoll taking silver with 65.16m.
Germany's Linda Stahl claimed bronze with a season's best of 64.91m in the fourth round.