GB divers miss out
Gladding and Powell fail to progress
Last Updated: August 8, 2012 10:45pm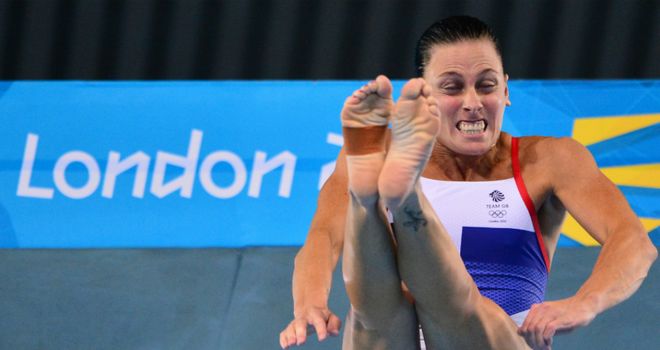 Monique Gladding: Finished 19th in women's platform qualifying round
Monique Gladding and Stacie Powell failed to get past the opening round of the women's platform at the Aquatics Centre on Wednesday evening.
The British pair had designs on a place in Thursday night's final but below-par performances meant they were agonisingly left in the two places below the 18-diver cut-off.
Powell, who did reach the semi-final in Beijing, was in trouble once she bombed her second dive which drew scores as low as three.
Gladding was far more solid, with only fours for her penultimate back two-and-a-half somersault costing her as she finished just a place outside the cut in 19th, but still 6.65 points adrift.
The 31-year-old, who scored 301.45, may now opt to retire after battling back to qualify for her first Olympics following a freak accident during a meet in Russia 18 months ago.
Gladding hit her head on the 10-metre tower and plummeted unconscious into the water and had to be rescued from the bottom of the pool, with her husband and coach Steve Gladding watching on in horror.
The City of Sheffield diver was left with a large scar across the top of her scalp and later revealed she had been seconds from death.
Despite that she had enjoyed the best 12 months of her decade-long career on the platform to qualify for her first Games, albeit after fending off an appeal from Tonia Couch.
Couch finished above Gladding at June's national trials, but British Diving performance director Alexei Evangulov opted to select the veteran, with Couch ordered to concentrate on the synchro.
Powell, who is studying for a PhD in astrophysics at the University of Cambridge, had scored a British record score of 376.05 at the trials in Sheffield to book her Games place.
She was well down on that tonight, totalling 287.30 to place 20th.
Both are reserves for Thursday morning's semi-final in the unlikely event of injury or illness to a rival.
China's defending Olympic champion Chen Ruolin qualified well clear in first place ahead of Malaysia's Pandelela Rinong Pamg.
A disconsolate Gladding revealed she had only been given the go-ahead to dive on the eve of the competition after a neck injury flared up five days ago.
It meant she was unable to train in the lead up to the competition, with fears diving from the highest tower could cause a long-term injury.
As it is she is likely to require neck surgery after advice from a neurosurgeon.
Horrible
"To finish 19th is a horrible place to finish. I've had such a tough week because it was touch-and-go whether I was going to dive," she said.
"I've had problems with my neck since my accident and it flared up quite badly. They had to MRI scan it and they found I had a prolapsed disc which was pressing up against the spinal cord.
"If it burst through on the spinal cord it could cause anything from my shoulder to blow to be paralysed.
"It's been awful. I've been in tears most of the time.
"I am probably going to have neck surgery now. It's off to the neurosurgeon to get it checked out and see which way we go with that."
Surgery will mean at least six week on the sidelines but despite her latest setback Gladding refused to concede her career might be over.
"I wouldn't say it is the end," she said.
"I have to sit down and talk to everyone and decide what the best way forward is for my health.
"The big dream was to be here and do the best I could and I've done that now. It was an amazing experience. I'll hold on to that forever.
"My whole career has been summed up in a week. The opening ceremony I had an absolute buzz and then I crashed with my neck being really sore.
"There were tears and I wasn't diving, them I am diving. It's been a rollercoaster. At some point I wonder why everything is so difficult.
"Maybe I was a murderer in a past life. Maybe things are coming back to haunt me.
"There you go, diving is a killer."
Powell, 26, had reason for cheer after she revealed she had been notified earlier on Wednesday that she was set to become a published scientific author.
"There's a silver lining to every cloud and I just had an e-mail today that my paper's been accepted," she said.
"It now goes into a journal that is the monthly notices of the Royal Astrological Society and it will be there for everyone to see and use do future research in that area and cite me.
"It means I'm a published scientific author.
"It's about a star that shows that there are potential planets in this star. There are more clues on how Earth came to be and how we formed and how stars formed.
"I'm excited about that. Hopefully it will get a lot of citations because it is quite a big paper. It will be good to get it out there for the rest of the scientific community to see.
"Unfortunately diving didn't work out for me.
"I was pleased with the way I came back from my missed dive, but that's diving. I can't undo it, I wish I could."