Stevenson full focused
Stevenson's strong relationship with her husband is key
Last Updated: 08/08/12 9:20pm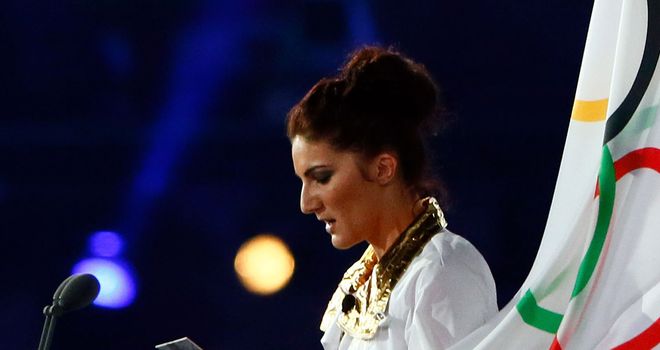 Stevenson: Won a bronze in Beijing
Taekwondo coach Steve Jennings will make sure his wife Sarah Stevenson is fully focused to deliver Olympic success this week.
Stevenson - a bronze medallist at the Beijing Games after a scoring error was overturned - has certainly been tested during the past 18 months, when she was able to deliver World Championship gold while her parents were battling against terminal illness and then had to overcome a serious knee injury to prove her fitness for the four-strong Olympic GB Taekwondo squad.
Jennings has shared those trials, both professionally in the gym and personally at home supporting his wife in her quest for Olympic gold.
It is a strong relationship which gets the best out of each other.
Jennings said: "The dynamics are really good. In training she respects me as a coach, and she is a world-class athlete so it is a pleasure to work with somebody like that.
"In training and the gym, it is business, then when we go home we try to have a normal life and not talk too much about Taekwondo.
"I am probably the boss in the gym, and she keeps me quiet at home."
Stevenson had the honour of reading the athletes' oath at the opening ceremony, and given all she has gone through, it would certainly be some story were the 29-year-old to claim under-67kgs gold at ExCeL on Friday night.
However, Jennings insists they both know sentiment can play no part in preparations ahead of Olympic competition.
Tough
"Life has been tough for all of us," he said.
"Sarah had an awful year in 2011, and then had an injury this year, but she is immense the way she deals with it all."
Jennings continued: "The amount of times people have said to her: 'surely you have to win Olympic gold now? You have lost both of your parents and had ACL reconstruction. Surely it is your time'.
"That, though, is nonsense really.
"There are 15 other fighters in that category and nobody else cares about that, they all want a gold, as does Sarah.
"It would be lovely for it to happen, but she has to work just as hard as everybody else."
Stevenson - named Sunday Times Sports Woman of the Year and also appointed MBE in the 2012 New Year Honours - feels having her husband fighting her corner can only be a positive.
"It is nice to have your husband there with you, and we are both in it together," she said.
"To have that support at home from someone who really understands what you are going through does help."
All British fighters will be seeded fourth at the Games, and Stevenson could meet world number one Seham Elsawalhy of Egypt in the semi-finals.
Stevenson, though, will not let that unduly worry her.
Unfazed
"I never look at the draw. I just say to Steve 'tell me who I am fighting, tell me a few bits and bobs about them'," she said.
"I don't really care about rankings, because all of the fights are going to be hard, it is an Olympic Games, so you can't take anything for granted.
"90% of the girls I will be up against I have probably never fought, so I don't have to worry about them because I don't know them - and they don't really know me because I have not fought for more than a year, so I see it is a bonus."
Friday will also see Lutalo Muhammad in action, who was a controversial selection for the under-80kgs ahead of world number one Aaron Cook.
Thursday's British interest will be led by Wales teenager Jade Jones in the under-57kgs featherweights, who won silver at the 2011 World Championships, while Liverpool's Martin Stamper fights at under-68kgs.
Jones said: "My weight category is really hard, but I am definitely 100% going there for the gold.
"Seeing all the gold medals being won for Team GB has been really incredible.
"I have been watching it thinking I want to do that. It has been inspirational really and makes you want to do it even more."