Grayson urges Rhodes to stay
Terriers boss feels striker would benefit from regular football
Last Updated: 08/08/12 10:57am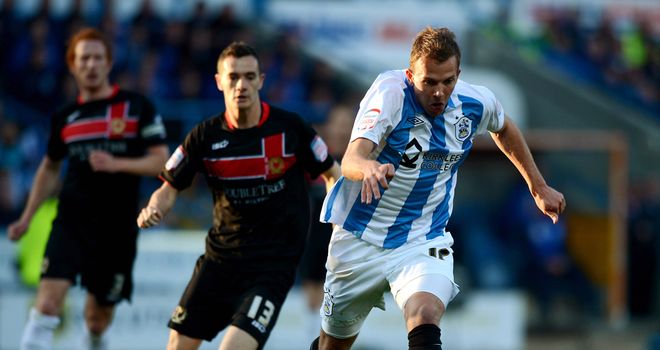 Jordan Rhodes: Scotland striker has been urged to stay at Huddersfield Town by Simon Grayson
Simon Grayson has urged Jordan Rhodes to spend another season at Huddersfield Town after reiterating the striker will only be sold for the right offer.
Rhodes scored 40 goals in all competitions last season en route to helping Huddersfield win promotion to the Championship and he had been the subject of a bid from West Ham United in January.
Blackburn Rovers boss Steve Kean admitted earlier this week that he has made an offer for the Scotland international, while Fulham and Reading have also been linked with the player.
However, Grayson believes there is no rush for the 22-year-old to move on and he would benefit from playing regular football in the Championship this season.
Learning
"I do think another year in the Championship will be the best thing that can happen to Jordan," Grayson told the Yorkshire Post.
"I am not saying Jordan couldn't make it in the Premier League if someone comes in. He has always scored goals at whatever level.
"But I have seen it happen a few times where a player leaves the Championship to go to the Premier League and then only plays a dozen games. Or spends most of their time coming off the bench.
"Jordan is someone who has been used to playing so for him to go to the Premier League and do that, I believe that would be very difficult for him. He is still young and learning, and another year (in the Championship) will benefit him and benefit Huddersfield Town.
"I have had numerous conversations with him over the summer and he knows what our stance has been.
"If someone is willing to pay the money that we have in our minds for him, then we will listen and do the right thing by Jordan. But until anyone gets even close to that valuation then there is no point discussing stuff.
"The enquiries that we have had and the money being mentioned wouldn't have bought him at Christmas last year when he still had another 15 or so of his goals to score in League One, never mind someone who got 40 goals."