Mixed emotions for Woods
American pleased with progress but he wants more
Last Updated: 08/08/12 6:07am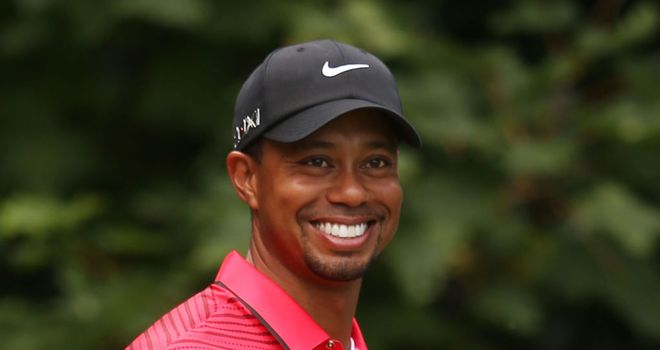 Tiger Woods: Wants more major success
Tiger Woods might have enjoyed a resurgence in form - but the former world No.1 has not progressed as far as he would have liked.
When Woods missed the cut by six shots at the USPGA Championship last August he looked a shadow of the player who had won 14 majors.
He remains four behind Jack Nicklaus' record, but after finishes of 40th in the Masters, 21st in the US Open and third in the Open - plus three other tournament wins - things are certainly looking up again.
"I'm pleased at the way I was able to play at certain times and obviously disappointed that I did not win," Woods said at Kiawah Island, where the 94th USPGA starts on Thursday.
"I've played in three major championships this year and I didn't win any of them. That's the goal.
"I was there at the US Open after two days [he was joint leader] and I was right there with a chance at the British Open.
"Things have progressed, but not winning a major championship doesn't feel very good."
"I've played in three major championships this year and I didn't win any of them. That's the goal."
Tiger Woods Quotes of the week
Not that the 36-year-old is fretting over a pursuit of Nicklaus that has stalled for four turbulent years in his life.
Time
"I figure it's going to take a career - a long time," he said.
"Jack didn't finish his until he was 46, so if you go by that timetable I've got 10 more years.
"Four more majors is a lot, but I've got plenty of time."
Woods now finds himself on the longest course in major history - 7,676 yards if played from every back tee - and one made famous by its staging of the 'War on the Shore' Ryder Cup in 1991.
He also finds himself in the strongest field ever assembled for any event.
Barring any late withdrawals, it will be the first time since the rankings were launched in 1986 that the world's top 100 are all in the same place.
The last 16 majors have had 16 different winners. This season has seen Bubba Watson capture the Masters, Webb Simpson the US Open and then last month Ernie Els his second Open.
It could easily become 17 - Luke Donald, Lee Westwood, Woods are not on the list and nor, of course, is Adam Scott after he threw things away with four closing bogeys at Royal Lytham.