All-American showdown
Reigning world champions knocked out in second match
Last Updated: 08/08/12 12:52am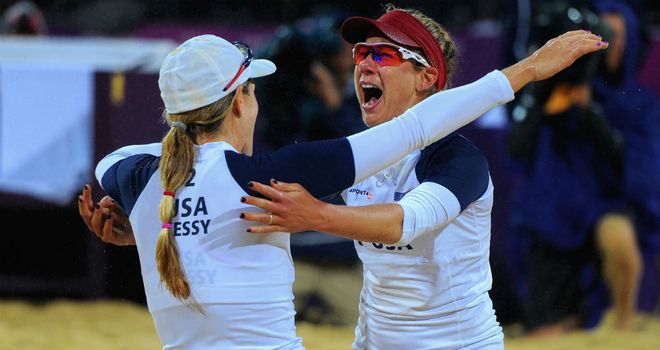 Jennifer Kessy and April Ross: battled back to beat the Brazilian pair
The United States are certain to scoop the gold medal in the women's beach volleyball tournament at Horse Guards Parade after both their teams made it through from the semi-finals.
Jennifer Kessy and April Ross upset Brazilian duo Larissa Franca and Juliana Silva, battling back from behind to see off the world champions.
Franca and Silva secured the first set and initially looked set to take the second until Kessy and Ross managed to get a foothold, with two kill blocks from the former helping them recover.
The United States had the momentum going into the third and they soon had four match points, though they were made to work to close things out.
Franca said: "We came here to win a gold medal, I am very sad. We tried our best, but we made several mistakes and you can't have that."
Third title
Earlier in the day, American pairing Misty May-Treanor and Kerri Walsh prevailed in the other semi, keeping alive their hopes of winning a third gold in a row.
The reigning two-time champions battled hard to defeat Zhang Xi and Xue Chen of China 22-20 22-20.
A straight-sets win for the US looked a distant proposition in the opening set as the Chinese opened up a 13-8 lead on the back of a strong defensive showing, but a 6-1 run brought the Americans back level, after which there was only going to be one winner.
The second set was a similarly close tussle, but when May-Treanor's wonderful back-court dig was touched over by Walsh for a point the US had no right to win, the Chinese pair's shoulders dropped and the Americans pulled away.
"To come back from the deficit that we had in set one is great - they were playing awesome but we made it happen. I'm speechless. I think we played as a unit, so I'm very happy," said May-Treanor.
"I had a picture in my head at the beginning of the season of how I wanted us to play and we're living that picture, but it's not over yet."