Phelps finishes on 18
Medley relay brings curtain down on a stellar career
Last Updated: 04/08/12 11:14pm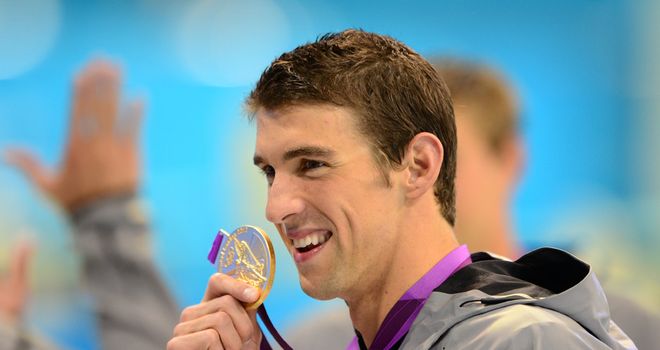 Michael Phelps: time to move on to other things
Michael Phelps brought to an end an unparalleled career as he bowed out of the Olympics with 18 gold medals and 22 overall.
The 27-year-old started his Olympic career at Sydney 12 years ago where he finished fifth in the 200 metres butterfly.
Six gold and two bronze medals in Athens were followed by his historic eight golds in Beijing.
His London Games did not start off so well with fourth place in the 400m individual medley - his worst result since Sydney - and he was shocked by Chad le Clos in the 200m butterfly, the South African taking advantage of Phelps' poor glide into the wall.
However, the Baltimore swimmer won the 100m butterfly and 200m individual medley - where he outgunned team-mate Ryan Lochte - as well as taking the titles in the 4x200m freestyle and Saturday's medley relay and silver in the 4x100m freestyle.
Texts and phone calls from the likes of US president Barack Obama followed and tonight he was presented with a FINA lifetime achievement award by president Julio Maglione inscribed with the words: "To Michael Phelps, the greatest Olympic athlete of all time. From FINA. August 4 2012. London, Great Britain."
On retiring, he said: "I don't want to swim after I turn 30 and that is in three years and I don't want to swim for another three years.
"I would be past 30 by the time the next Olympics. I have achieved what I wanted to achieve, Bob and I have somehow been able to do every single thing.
"If you can say that about your career then it's time to move forward, time to move on to other things. I finished my career how I wanted to.
"Before the race I said 'let's just go out and do it'. We were all excited."
Phelps' retirement overshadowed the rest of Saturday's programme in which the USA women set a new world record in their medley race of three minutes 52.05seconds.
Sun Yang also set a new world record in the 1,500m freestyle, lowering his own mark by more than three seconds to 14mins 31.02secs.
Ranomi Kromowidjojo completed the sprint freestyle double, winning the 50m in an Olympic record of 24.05.