Record for new Dream Team
USA hit a record score against Africans in pursuit of gold
Last Updated: August 3, 2012 8:16am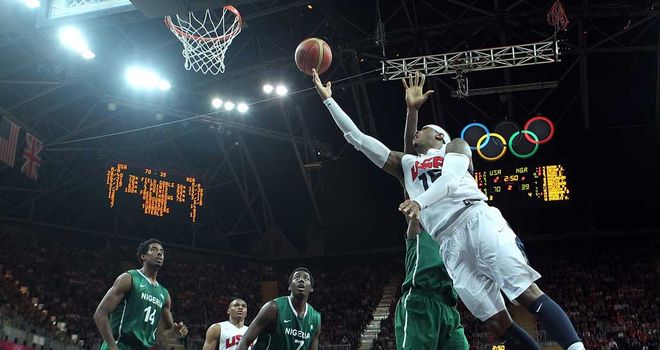 Carmelo Anthony: USA net record points haul
United States coach Mike Krzyzewski hailed his side's phenomenal shooting after they scored an Olympic record tally of points in their 156-73 rout of overwhelmed Nigeria.
The record fell when Andre Igoudala hit a three-point shot with 4:27 minutes left in the game to make it 139-68, surpassing the previous record of 138 scored by Brazil against Egypt in 1988.
The Americans scored 78 points in the first half alone, beating the previous Olympic record of 72 - which was set by that same Brazil team against China in the Seoul Games.
Several records had tumbled by the end.
Carmelo Anthony had 37 points, breaking Stephon Marbury's record of 31 for an American player in an Olympic Games, and he managed all that while playing less than half the game, as he was on the court for just 14 and a half minutes.
Anthony also set new records for the number of three-pointers made, with 10, and attempted, with 12.
Their winning margin of 83 points beat their previous best of 72 against Thailand, a 101-29 win in 1956, although they fell shy of the biggest win in Olympic history - and even in London's Olympic history as two games in 1948 finished with 100 points the difference.
Kobe Bryant had 16 points despite joining LeBron James - who had six - on the bench for the entire second half.
Russell Westbrook poured in 21, Kevin Love collected 15, Kevin Durant 14 and Deron Williams 13.
The United States had 49 points by the end of the first quarter and reached triple figures midway through the third.
In total, they made 59-of-83 shots from the field, including 29-of-46 from three-point range.
"We just shot better than any team in the game that I've ever coached," said United States coach Mike Krzyzewski, who coached the Americans to gold in Beijing and was an assistant on the 1992 Dream Team staff.
"Our guys just couldn't miss tonight. Whenever you hit 29 three-pointers, it's very difficult to lose in a game like that."
Nigeria coach Ayodele Bakare was in good humour after the game, pointing out defensive mistakes his team made and then adding with a chuckle: "Otherwise we could have won the game."
But he did admit he was not quite sure what to say to his players as they prepare to face Argentina next.
"My mind is still stunned," he said. "I counted, how many, 45 different records?
"We have the dubious distinction of being part of those records. It's tough to motivate players after this because we didn't expect this sort of result."