Ben back in business
Ainslie comes back fighting after rest day
Last Updated: 02/08/12 7:43pm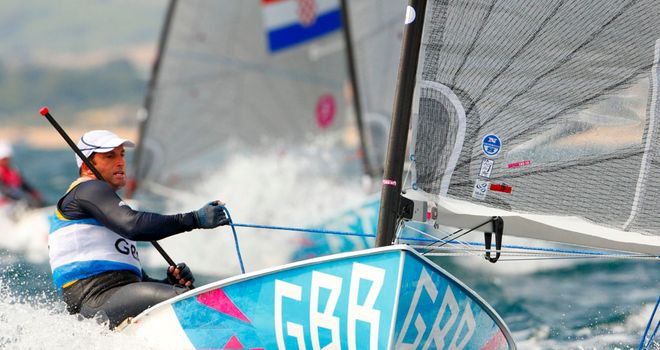 Ben Ainslie: Closed gap on Dane to four points
Three-time gold medallist Ben Ainslie stepped up his gold medal charge by dramatically cutting Jonas Hogh-Christensen's lead at the top of the Finn standings.
The 35-year-old came into his fifth Olympics as overriding favourite to top the podium, but failed to finish ahead of the Dane in the first six races.
However, Ainslie returned from a rest day seemingly reinvigorated and quickly went about narrowing the Dane's 10-point gap at the top of the overall standings.
Ainslie got off to his best start of the Games in race seven on the choppy waters of Weymouth Bay and rounded the first mark in the lead.
He continued to head the fleet into the third leg, where overall leader Hogh-Christensen capsized and dropped down to 15th.
The Dane recovered superbly to finish in eighth but could only watch on as Ainslie won the race by 21 seconds.
Second race
The six-time Finn world champion continued in the same vein of form in the day's second race, overcoming a relatively sluggish start to beat Hogh-Christensen to third spot after a superb final downwind leg.
Ainslie seemed to gesticulate towards the Dane's boat at the end of the race after cutting his lead at the top down to three points.
The Brit was angry after having a penalty turn for touching the third mark - something he claims he did not do.
Instead, Ainslie alleges Hogh-Christensen and the Netherlands' Pieter-Jan Postma worked in cohorts to get him punished.
"The Dutch and the Danish guys basically teamed up against me to claim I hit the mark when I didn't," he said.
"I was pretty p****d off with that, to be honest, at this level.
"I had no option but to take the turn because in the protest room I would be sure to lose as it was two against one.
Angry
"That is disappointing but I can tell you it has made me pretty angry [and wanting] to make amends tomorrow."
Hogh-Christensen would not disclose what was said but was quick to deny Ainslie's allegations.
"That is a hard allegation," he said. "I don't think anybody teams up to call somebody on that. I saw him hit the mark. I think the Dutch guy saw him hit the mark.
"Two guys seeing the same guy hit the mark is probably because he hit the mark. There was no bad words from either of us, we just called him on it.
"He decided to do what he had to do and took his penalty. If he was so sure he didn't hit the mark, why did he take a penalty then?
"The exchange of words, well, was probably unnecessary but that is the way life is in sport."