Now India accuses Japan
BWF rejects another accusation of match-fixing
Last Updated: 01/08/12 5:18pm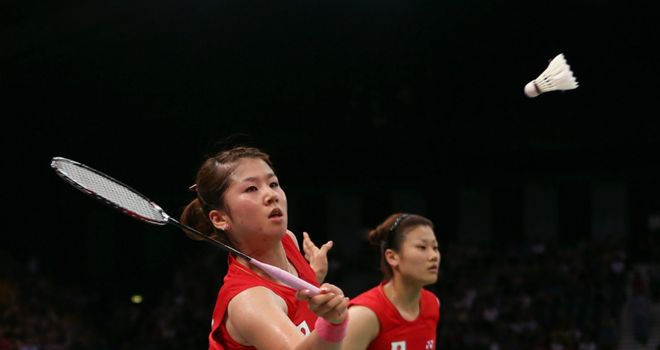 Accusation: Japan's Mizuki Fujii and Reika Kakiiwa
India have accused a Japanese women's doubles pair of throwing a match in a fresh twist to badminton's Olympic match-fixing scandal.
An official complaint by the India team was rejected by the Badminton World Federation but it brings further embarrassment to the sport after the expulsion of four other pairs at London 2012.
The Chinese top seeds, two pairs from South Korea and another from Indonesia deliberately played to lose in an attempt to manipulate the quarter-final draw at Wembley Arena.
Now it has emerged that India made their concerns known over the manner of fourth seeds Mizuki Fujii and Reika Kakiiwa's loss to Cheng Wen Hsing and Chien Yu Chin of Chinese Taipei.
The Japanese duo lost unexpectedly 21-19 21-11 to finish second in Group B. Their final position meant they avoided Chinese second seeds Tian Qing and Zhao Yunlei in the last eight.
That meant Chinese Taipei topped the group and India's Jwala Gutta and Ashwini Ponnappa missed out.
India coach Pullela Gopichand said: "In Group B, Taipei had to and wanted to win, but Japan wanted to lose to be second in the group to avoid China.
"We put in an appeal protest this morning and the BWF has come back saying they didn't find any bias or anything beyond the ordinary in the matches.
"We've filed an appeal to review that decision.
"Just because it's subtle and the crowd didn't make a noise, the TV didn't make a noise, doesn't mean it didn't happen. In this match only one team wanted to lose."
The crowd did notice the apparent attempts of the other pairs to throw their matches and booed considerably.
The furore was sparked by the loss of China's second seeds Tian and Zhao to Denmark's Kamilla Rytter Juhl and Christinna Pedersen early on Tuesday.
Top seeds Wang Xiaoli and Yu Yang then tried to engineer defeat against Korea's Jung Kyung-eun and Kim Ha-na to avoid finishing top of their group and going into the same half of the draw as their compatriots.
The Koreans responded by trying to lose themselves and a second pair from their country, Ha Jung-eun and Kim Min-jung, took the retaliation further by failing to play properly against Indonesia's Meiliana Jauhari and Greysia Polii. The Indonesians then became involved.