Hull fail in Chase race
England international's move to KC on hold for time being
Last Updated: 22/07/12 1:12pm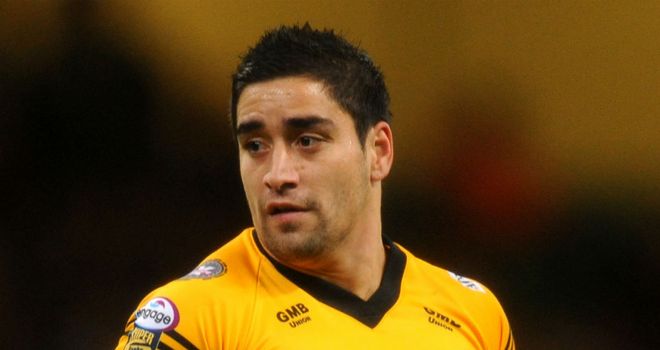 Rangi Chase: Visa problems mean Rangi Chase not joining Hull on Friday
Hull FC have admitted defeat in their bid to sign Castleford Tigers half-back Rangi Chase ahead of Friday's transfer deadline.
The 26-year-old England international agreed terms with the club, but they were unable to secure a visa in time for him to join this season.
New legislation in the application scuppered their hopes of signing Chase, although they will still look to secure him for the 2013 campaign.
"We will continue to invest until we win something. It's not about breaking even."
Adam Pearson Quotes of the week
Missed out
"I'm massively disappointed not to sign Rangi ahead of this afternoon's deadline," Black-and-Whites owner Adam Pearson told the club's official website. "We've put a lot of effort in over the last 10 days to get him and he was really keen to come here.
"The deal was all set up and he was obviously going to be a very expensive player but one I thought would put bums on seats, give us a bit of creativity and put a spark back into the club.
"Unfortunately, visa legislation has changed during the past week or so and this has scuppered the deal for now, but Rangi is still very much on the radar.
"We'll just keep trying. We are the club trying to overcome the hurdles the UK Border Agency has put in front of us and we have a team of excellent lawyers in London working on this on the club's behalf."
Ambitious
Hull are eighth in the table and Pearson is determined to strengthen Peter Gentle's squad so it is capable of challenging for honours.
The Airlie Birds are an ambitious club and Pearson is keen to improve on last season's poor recruitment drive.
"We won't be in this position next year," he continued. "We will be signing a six and seven and a deal for a player is close.
"We will continue to invest until we win something. It's not about breaking even. If we have to pay a fee we will. I know what I can afford.
"Last year's recruitment was way off where it needed to be. This club is screaming out for top quality players. You get what you pay for."