Pattinson happy with omission
Aussie admits his T20 displays haven't been great
Last Updated: 19/07/12 7:54am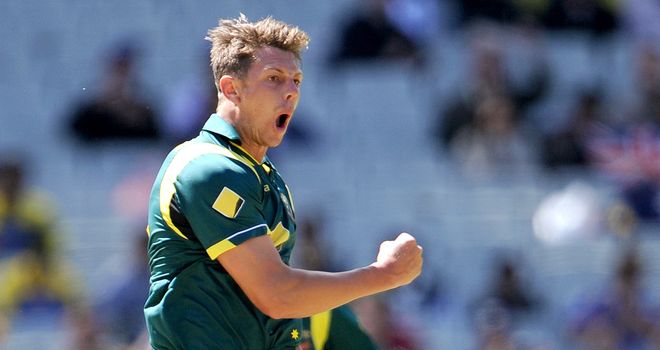 James Pattinson: Not in Australia's T20 squad
Australia fast bowler James Pattinson insists he is happy to focus on the longer formats of the game after his omission from the preliminary squad for the ICC World Twenty20.
Despite featuring in the T20 squad which took on the West Indies in March, Pattinson was left out of the 30-man squad to be cut to 14 next month.
The 22-year-old burst onto the Test scene last summer with a string of impressive performances, taking 25 wickets at an average of 18.
And the Australia selectors believe he is best suited to Test cricket and Pattison is happy with the decision for the time being.
"Where I am at my cricket now, there's a big emphasis on me playing the longer format of the game - Test cricket and one-day cricket," Pattinson said.
"I think being young it's hard to juggle all three forms of the game at my age. I'm just excited to be involved in the one-day team and the Test team. If that chance comes when I'm a bit older I'd love to take it.
"Probably another thing - my performances haven't been too great in Twenty20 cricket of late.
Pressure
"As a 22-year-old I've found it quite hard to juggle all three forms at the one time and it's quite a lot of pressure.
"For me it's easier to just to go back to the two formats and concentrate on that, especially when I'm young and pretty inexperienced."
Pattinson played two of Australia's four ODIs against England this month and, while he failed to take a wicket with the tourists humbled 4-0 - the young paceman believes they can bounce back ahead of next month's series against Pakistan.
"The body has pulled up pretty good. I probably didn't play as much cricket as I would have liked over in England and the results probably weren't as great as we would have wanted," he said.
"It's great to be around such great people in the Australian squad and we'll bounce back and bigger and better in the next series."