Child chases Shakes-Drayton
Scottish star aims to win battle of Britain in London
By Chris Hammer. Last Updated: 17/07/12 12:46am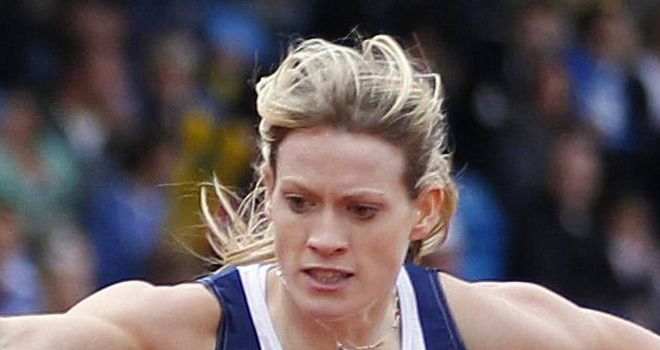 Eilidh Child: Hopes to emulate her British rival
Eilidh Child insists Perri Shakes-Drayton's stunning performance at Crystal Palace has given her the motivation to do the same when it really matters next month.
The Scottish 400 metre hurdler could only manage a distant fifth at last weekend's Aviva London Grand Prix as her British rival stormed to victory in 53.77 seconds, prompting many observers to tip her for an Olympic medal this summer.
Shakes-Drayton's time not only smashed the personal best she set when winning bronze at the 2010 European Championships but was also the joint-second quickest in the world this year alongside Russia's Irina Davydova, who was a well-beaten runner-up at Crystal Palace.
Child had been edging the domestic rivalry before her second-placed finish behind the Londoner at the Olympic trials in Birmingham last month and having now seen the gap suddenly widen further, she's determined to get even once more in time for the start of the Games.
The Commonwealth Games silver medallist, who has a personal best of 54.96, said: "You've got to take the positives and think that if she can do that then why can't I?
"That's the good thing about Perri and I to have this rivalry in Britain. We always want to go one better.
"I've been ranked number one all season but now she's gone ahead. It's great we've got this cat and mouse game going on and hopefully I'll get close to her again - when it really matters."
The 25-year-old is heading to Portugal with the rest of the British team next week for a training camp but is keen to try and enjoy the build-up to her first Olympics as much as possible.
Excitement
She said: "I was blocking out all the build-up until I got selected.
"But since then I've embraced it a bit more. I didn't want to think about it in case I didn't get picked but now I've done it I can enjoy all the hype.
"We'll miss out on some of it anyway when we're in Portugal but when we come back we can enjoy it more."
Although matching a time like Shakes-Drayton managed at Crystal Palace would potentially put her in the medal picture, Child is just focused on giving her best rather than setting any lofty targets.
She said: "I think London might be a little bit early for me as I won't be at my career peak until two more years - but if I can go there and compete and come off the track knowing I've given my all then I'll be happy.
"I'd love to make that final but it's going to be a very tough field."