Sinfield simply phenomenal
Jones-Bishop hails team-mate's semi-final performance
By Rebecca Stephenson (follow me @1rebs). Last Updated: 15/07/12 3:03pm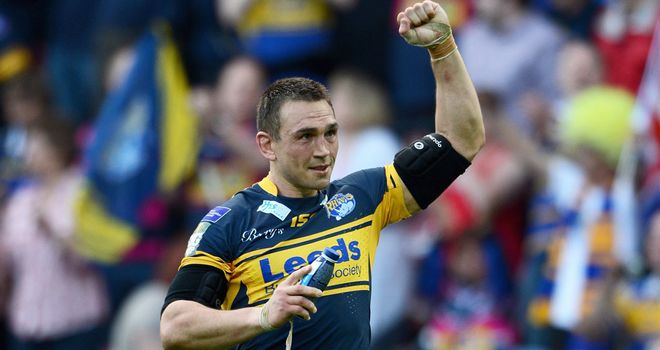 Kevin Sinfield: Leeds skipper branded phenomenal by Ben Jones-Bishop
Ben Jones-Bishop believes Leeds' trip to Wembley for the Challenge Cup final is largely down to his captain Kevin Sinfield.
The two-try hero from the semi-final refused to take the credit for the shock 39-28 semi-final victory over Wigan, choosing instead to hail a 'phenomenal' performance from his skipper, who played a critical role in four of his side's six first half tries.
"He's obviously our captain and he leads from the front. He's a phenomenal player."
Jones-Buchanan on Sinfield Quotes of the week
Led by Sinfield, the Rhinos played a fantastic kicking game, which saw them overrun the Warriors in the first half, establishing an unassailable 30 points to 12 lead and claiming a place in the final for the third year running.
Sky Bet Odds
Leeds Rhino's to win the Grand Final 2012 - 9/1. Bet Now
And Jones-Bishop knows that if the Yorkshire side are to claim their first Challenge Cup since 1999 they will need Sinfield to repeat his inspirational display.
Phenomenal
He said: "He's very good at the minute. He's obviously our captain and he leads from the front. He's a phenomenal player.
"He's the first one on the training field and the last one off it. He's constantly practising and it shows.
"He was able to do that thanks to the great work from the forwards, who set the platform. He had a lot of time to kick and he was unbelievably on the spot every time."
The Galpharm Stadium encounter was a far cry from the last meeting between the sides, where the Warriors outclassed Leeds, beating them 50-8 at Headingly last month.
And Jones-Bishop hopes that the result will now drive them on to get a good play-off place to give them a good chance of retaining the title they famously won from fifth last season.
Massive
The winger continued: "This is a massive win for us. We hadn't beaten Wigan in two years and it was mentioned earlier.
"We focused on ourselves and what we needed to do to break them down. We had a great game plan and we peaked on the pitch. It worked out fantastic for us.
"We need to keep the form up in the league now and get in that top four if possible.
"We've got six weeks before Wembley and, with each performance, we're building for the final."