Headguards scrapped
New rules were announced by AIBA on Wednesday
Last Updated: 11/07/12 4:35pm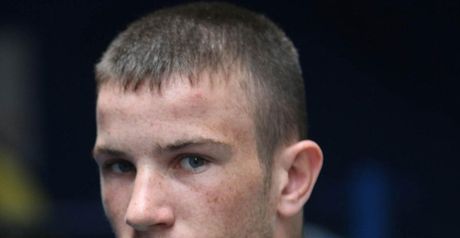 John Joe Nevin: The Irish boxer is involved in the WSB
Headguards are set to be scrapped and some professional boxers allowed to compete in the next Olympic Games under new rules announced by amateur boxing's world governing body AIBA on Wednesday.
However, the launch of AIBA Professional Boxing (APB) - set for early next year - is unlikely to mean established British stars such as Carl Froch or Amir Khan will be battling to line up in Rio in 2016.
At their executive committee meeting in Bangkok, AIBA passed a motion to end the use of headguards in all their elite men's competitions from next year; however they will still be used by juniors and women.
The governing body also clarified that some current professionals - predominantly those in the early stages of their careers - will be able to sign up for the APB series - and therefore the next Olympics - subject to certain contractual issues.
Dreams
Dr Ching-Kuo Wu, AIBA president, said: "In order to truly develop the APB ranking competitions with the best boxers around the world, APB will accept current professional boxers to join APB with limited terms and conditions.
"In addition, most importantly, we will allow these APB boxers to compete in the Olympic Games... and we plan to make this dream come true from the Rio 2016 Olympic Games."
In reality, while the move is unlikely to interest global bill-toppers like Froch and Khan, it will give an extra opportunity for novice professionals who are struggling for work in an era of reduced TV revenues and sponsorship.
It is unclear exactly how the year-long tournament will be applied in terms of promotional and contractual issues, but AIBA have stressed all competing boxers must do so under the support of their respective national federations.
The competition will be split into three sections, with the world's top 20 in each division competing over 10 or 12 professional-style rounds, with fewer rounds at continental and national levels.
Continental and national-standard boxers - their level would depend on their world ranking - would compete over eight and six rounds respectively, or six or four rounds for title matches.
System
This move follows AIBA's launch of World Series Boxing last year, in which privately owned teams with international rosters compete over a continental system - without vests or headguards - for WSB team and individual titles.
Wu added: "With the launch of APB, we will change the technical and competition rules for all of our programmes. This means that we aim to take headguards off in all elite men's competitions."
No British boxer is currently involved in the WSB, although the competition includes two Irish boxers, one of whom, London Olympian John Joe Nevin, added: "It has helped me a lot. It has given me power and maturity.
"It has helped me a lot. It has given me power and maturity. "
John Joe Nevin Quotes of the week
"I know what the sport is all about now, and I know what it's like to fight punchers. I'm just concentrating on the Olympics, and I'll wait until after the Games and see what is the best option for me."
Change
Wu's announcement is clearly designed to stop the departure of the likes of Nevin to the professional ranks at the end of each Olympics cycle, and to challenge the role of the much-maligned so-called alphabet bodies as the sport's accepted mediators.
"I would like to change AIBA as the ultimate responsible body for the boxer's entire boxing career, including amateur and professional, and would like to give more opportunities to our boxers to compete," Wu added.
"I am also deeply determined to change the image and reputation of our sport with transparency, popularity and social contribution by taking the responsibility of managing the destinies of the sport of boxing in all its forms."