Kiwis plot to stop Gayle
West Indies opener has been in fine form during New Zealand's tour
Last Updated: 10/07/12 9:36am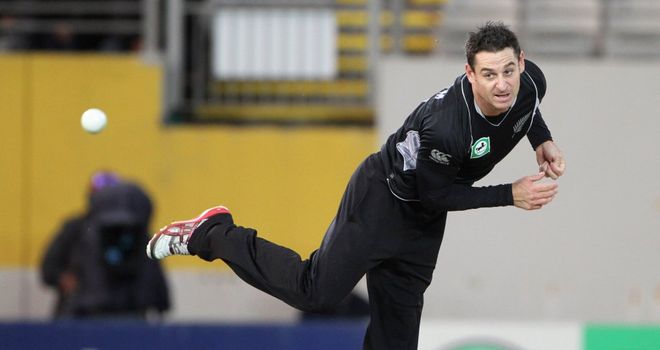 Nathan McCullum: New Zealander remains upbeat after four straight losses to West Indies
Nathan McCullum insists that New Zealand have plans in place to put an end to Chris Gayle's run of form.
West Indies opener Gayle has scored 85 and 53 in the two T20 matches and 63 and 125 in the first two ODIs between the sides.
The Black Caps have lost all four games on their tour so far and need to find a way of stopping Gayle as a matter of urgency.
"We've just got to get him out," said spin-bowling all-rounder McCullum.
"We've got some plans in place which we're pretty sure are going to work - let's hope they do - but we're going to be determined to take his wicket and put them under pressure by putting them under pressure in the top order."
Find a way
McCullum added: "I think we've just got to win. We've got to be determined to win and find any way possible.
"We've got to take more wickets, we've got to burn through their top order and see what their bottom order has got under pressure.
"And we've got to score big runs, put them on the board and score hundreds and have big partnerships.
"It's about the boys getting some time in the middle and understanding each other. We've got a young top order at the moment with the likes of Brendon McCullum, Ross Taylor out, so it means the younger guys have got to find their feet a lot quicker and get established.
"They've got to work together, build partnerships, score from the start and grow into something."