Wilshere warned by UEFA
Tweet lands Gunners midfielder in hot water
Last Updated: 10/07/12 8:38am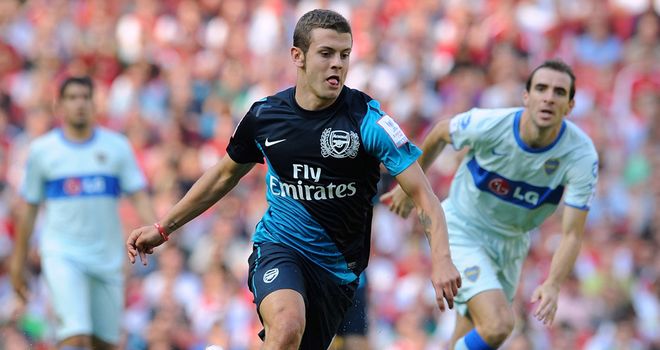 Jack Wilshere: Implied that he had placed a bet on a game involving Arsenal
Arsenal midfielder Jack Wilshere has been reprimanded by UEFA over comments he made which suggested he had bet on his own team.
European football's governing body have strict guidelines when it comes to player gambling.
Wilshere has been hit with an official warning after hinting that he had flouted those rules.
The 20-year-old midfielder took to Twitter in December to comment on a UEFA Champions League match involving Arsenal.
Injury kept the England international out of a meeting with Olympiakos, but he was an interested spectator.
Wilshere said fellow Gunner Emmanuel Frimpong was 'worth a cheeky £10' to open the scoring against the Greek outfit.
Disciplinary measure
After seeing his colleague hit the side-netting with the scores locked at 0-0, Wilshere added: "Frimmy nearly won me some money there!"
He later insisted that he had only been joking about placing a wager on the game, tweeting: "I didn't actually bet on the game. I know we're not allowed to! I was only messing just to be clear."
UEFA have, however, conducted a seven-month investigation into the matter and have warned the Arsenal man as to his future conduct.
A UEFA spokesman said: "The player has been warned for being in breach of the principles of integrity of matches and competitions.
"The disciplinary measure was a warning."