MLB: Yankees sink Sox again
Last Updated: July 9, 2012 8:04am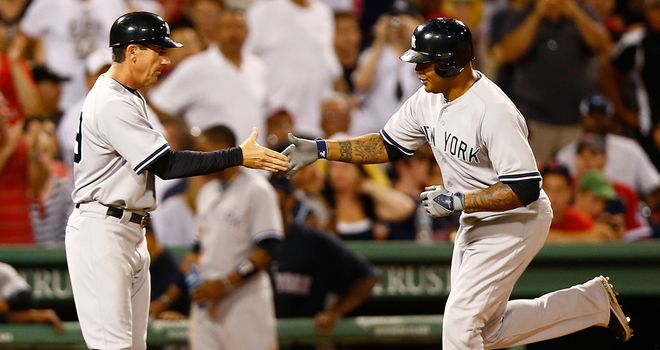 Andruw Jones (r) is congratulated on his home run
The New York Yankees will head into the All-Star break on a high after beating the Boston Red Sox 7-3 success at Fenway Park on Sunday - their third win in a four-game series against their long-standing rivals.
Andruw Jones smashed his fourth home run in three games and drove in three runs while Ivan Nova struck out 10 over six innings as the Yankees improved to 52-33 - the best record in Major League.
Elsewhere in the American League, Colby Rasmus homered and drove in three runs for Toronto as the Blue Jays ended the Central-leading Chicago White Sox's five-game winning run with an 11-9 victory.
Detroit sealed a three-game sweep of the Kansas City Royals with a 7-1 triumph, Prince Fielder slugging a three-run homer in the fifth for the Tigers, while Josh Reddick's RBI double in the 13th inning lifted the Oakland Athletics to a 2-1 win against the Seattle Mariners.
Ian Kinsler's RBI single in the 13th inning earned the West-leading Texas Rangers a 4-3 victory against the Minnesota Twins, the Los Angeles Angels defeated the Baltimore Orioles 6-0 and the Tampa Bay Rays edged the Cleveland Indians 7-6.
Andrew McCutchen smashed two home runs as the National League Central leaders, Pittsburgh Pirates, cruised to a 13-2 victory over the San Francisco Giants.
The Philadelphia Phillies> will enter the All-Star break on a low note though, their 4-3 home loss against Atlanta having secured a three-game series sweep for the Braves.
Rookie Trevor Bauer pitched six scoreless innings as the Arizona Diamondbacks prevailed 7-1 against the Los Angeles Dodgers, while Corey Hart's go-ahead RBI single in the 10th inning lifted the Milwaukee Brewers to a 5-3 success against the Houston Astros.
Starlin Castro's three-run homer helped the Chicago Cubs rout the New York Mets 7-0, and a three-run rally in the ninth inning spurred the St Louis Cardinals to a 5-4 win against the Miami Marlins.
Finally, the Colorado Rockies overcame the NL East-leading Washington Nationals 4-3 and the Cincinnati Reds defeated the San Diego Padres 4-2.