MLB: Teixeira steals the show
Yankees open four-game series against Red Sox with victory
Last Updated: July 7, 2012 8:45am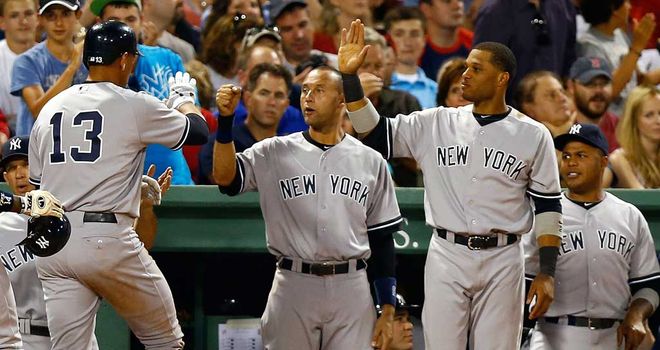 Mark Teixeira is congratulated by his Yankees team-mates after another RBI
Mark Teixeira drove in four runs on Friday as the American League East leading New York Yankees opened their four-game series against the Boston Red Sox with a 10-8 victory at Fenway Park.
Teixeira hit a two-run single in a five-run first innings and a go-ahead two-run triple in the seventh to condemn the Red Sox to a fourth straight loss.
The Chicago White Sox posted their fourth consecutive win by defeating the Toronto Blue Jays 4-2, Jake Peavy allowing one run over 7 1/3 innings for the AL Central leaders.
Luke Scott's two-run homer in the fifth inning helped the Tampa Bay Rays to a 10-3 triumph in Cleveland, ending the Indians' three-game winning streak.
In other AL action, the Oakland Athletics beat the Seattle Mariners 4-1 in 11 innings, the Minnesota Twins overcame the Texas Rangers 5-1, the Detroit Tigers saw off the Kansas City Royals 4-2 and the Baltimore Orioles scraped past the Los Angeles Angels 3-2.
Nationals see streak end
The National League East-leading Washington Nationals had their four-game winning run halted in a 5-1 loss against Colorado.
Tyler Colvin homered twice, while Drew Pomeranz gave up one hit over 6 1/3 shutout innings for the Rockies.
The Atlanta Braves toppled the Philadelphia Phillies 5-0 thanks to seven shutout innings from Tim Hudson and Brian McCann s eighth-inning grand slam.
Rookie Anthony Rizzo had a three-run homer in a five-run fifth inning to spur the Chicago Cubs to an 8-7 victory over the New York Mets, while the San Francisco Giants snapped a three-game skid with a 6-5 win against the Pittsburgh Pirates.
Finally, the Milwaukee Brewers prevailed 7-1 against the Houston Astros, the Cincinnati Reds thrashed the San Diego Padres 6-0, the Arizona Diamondbacks were 5-3 winners against the Los Angeles Dodgers and the Miami Marlins edged the St Louis Cardinals 3-2.