Gayle targets Sabina century
West Indies opener looking to cash in on home ground
Last Updated: 05/07/12 1:51pm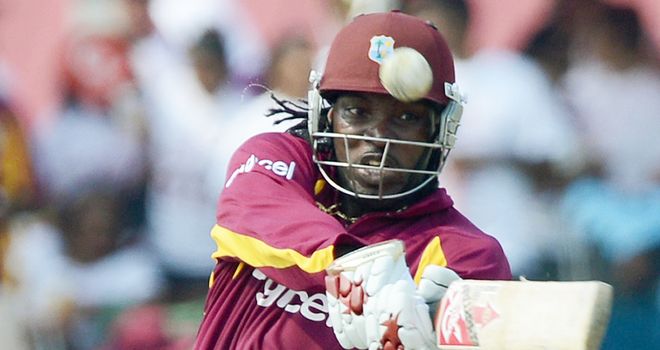 Chris Gayle: West Indies opener hit two fifties in the T20s in Miami
West Indies batsman Chris Gayle is looking to get the ODI series against New Zealand off to a winning start, both for the team and himself, and says he would like to get a century on his home ground.
The first of five ODIs will be played at Sabina Park in Kingston, Jamaica on Thursday, and the Windies are looking to kick on after winning the two-game T20 series 2-0, thanks in part to Gayle's batting heroics. He made 85 and 53 in those two games in Miami.
Gayle is only recently returned to the ODI side, having missed over a year of action due to a falling out with the West Indies Cricket Board, and he is keen to make a good showing in his first game on home soil in such a long time.
The former skipper said: "The start to this series is very important. From a personal point of view, I want to do well in my home town. I will just look at it as another game.
"I will look to give the team a good start, look to see what the bowlers are doing, and once I get set, look to capitalise and make it count."
Adapt
Of his own tendency to start slowly and then kick on, he added: "I don't know why that has been happening. If I get a bad ball early, that can give me the momentum to be more attacking.
"If that doesn't happen, you had to adapt to the situation, get the feel and know what the ball is doing. Sometimes as a batsman, things go your way from ball one."
He continued: "The pitch looks good... [it] should be a very good track for batting. I believe there could be some assistance for the fast bowlers early on as well and at some stage you could expect the spinners to come into play.
"I have played here many times and I'm accustomed to the conditions so we know what to expect.
"The last time I walked off Sabina Park I was raising my bat after I got 165 for Jamaica against Windward Islands. That people of Jamaica have not had cricket at Sabina for a while so it is good to have cricket come back to Jamaica.
"I would love to get a hundred here and raise my bat again."