MLB: Yankees stung by Rays
Rodriguez's two-run homer sets up Rays success
Last Updated: 04/07/12 8:08am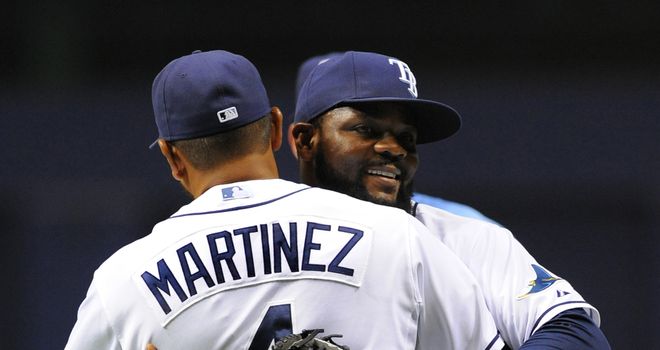 Tampa Bay chalked up a ninth successive home victory over the New York Yankees
The Tampa Bay Rays continued their home dominance over the New York Yankees on Tuesday night with a ninth straight victory over the American League East leaders at Tropicana Field.
The Rays trailed early on but capitalised on three errors by stealing five bases and took a decisive lead through Sean Rodriguez's two-run homer on their way to a 7-4 triumph.
Elsewhere in American League action, Kevin Youkilis blasted his first home run for Chicago as the White Sox trounced the Texas Rangers 19-2. Youkilis went 3-for-6 with a homer and four RBI.
Coco Crisp hit a game-winning sacrifice fly - his third career walk-off RBI - as the Oakland Athletics rallied to overcome the Boston Red Sox 3-2.
The Cleveland Indians defeated the Los Angeles Angels 9-5, the Minnesota Twins saw off Central rivals the Detroit Tigers 8-6 and the Baltimore Orioles squeezed past the Seattle Mariners 5-4.
In the National League, Ian Desmond's two-run homer helped the Washington Nationals consolidate top spot in the East with a 9-3 hammering of the West-leading San Francisco Giants.
Dramatic win for Milwaukee
Milwaukee clinched a dramatic 13-12 win over Miami, Aramis Ramirez smashing a two-run homer off Heath Bell in the bottom of the 10th inning - after the Marlins had overturned a seven-run deficit - to secure a fourth straight triumph for the Brewers.
Drew Sutton's walk-off homer secured an 8-7 victory for Pittsburgh against NL Central rivals the Houston Astros - improving the Pirates to eight games over .500 for the first time since 1992.
Michael Bourn's go-ahead three-run triple in a five-run fifth inning set the Atlanta Braves on their way to a 10-3 win over the Chicago Cubs, while Jon Niese pitched eight strong innings in the New York Mets' 11-1 romp against Philadelphia - the Phillies' sixth straight loss.
Finally, the San Diego Padres prevailed 9-5 against the Arizona Diamondbacks, Los Angeles Dodgers were 3-1 winners against the Cincinnati Reds, the Colorado Rockies edged the St Louis Cardinals 3-2 and the Toronto Blue Jays won 6-3 against the Kansas City Royals.