Hamilton-Brown to take a break
Former England off-spinner Gareth Batty to deputise as skipper
Last Updated: 03/07/12 5:53pm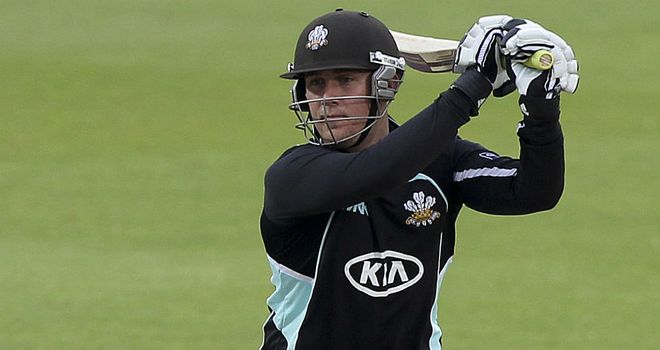 Rory Hamilton-Brown: a close friend of Tom Maynard
Surrey captain Rory Hamilton-Brown is to take time out from cricket in the aftermath of team-mate Tom Maynard's death.
Hamilton-Brown was a long-time friend of Maynard, who died last month after being hit by a Tube train on London's District Line.
All-rounder Hamilton-Brown played his first match since the tragedy in a Friends Life t20 clash against Hampshire on Sunday, but the 24-year-old has decided he is not currently able to perform in competitive cricket.
Jade Dernbach, another of Maynard's close friends, was given compassionate leave from England duty following the incident and both he and Surrey teammate Stuart Meaker have been excused from the third one-day international against Australia on Wednesday to attend the funeral in Cardiff.
Hamilton-Brown said: "I have decided to take a break from cricket. I am grateful to the club for their support and understanding of my decision and I look forward to returning to the game where I will hope to contribute and take forward my form of recent seasons."
Surrey chief executive Richard Gould believes Hamilton-Brown has done the right thing, adding: "Tom's death has affected many people, and he and Rory were great friends.
Rory now needs some time out and the club is keen to provide whatever support we can.
"Rory has performed very well both as captain and as one of our leading players over the last three years, and we look forward to him returning when the time is right.
The club would also like to express its appreciation for the support provided by the PCA over the last two weeks."
Former England off-spinner Gareth Batty will deputise as Surrey skipper, having taken charge of the Twenty20 side during Hamilton-Brown's recent absence.