Renault ready engine changes
Engine supplier putting safeguards in place to avoid repeat
Last Updated: 01/07/12 12:41pm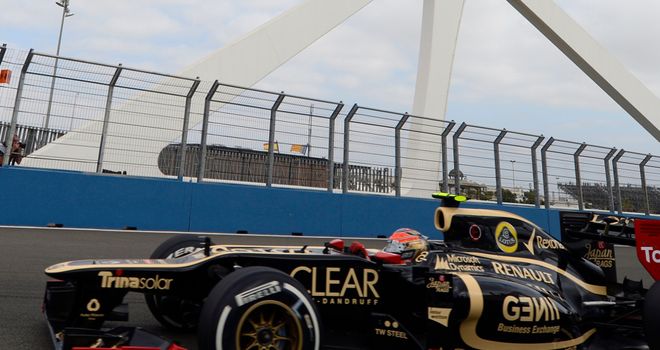 Lotus: Lost a potential win through an overheating alternator
Formula 1 Betting

Formula 1 Betting

Free Matched Bet
Renault are planning to make changes to the alternators used on their customer engines in wake of the failures experienced by Red Bull and Lotus in Valencia.
The French manufacturer vowed to conduct an investigation into the cause of the problems after overheating alternators ground Sebastian Vettel's Red Bull and Romain Grosjean Lotus's to a halt following the mid-race Safety Car last Sunday.
And although initial assessments have shown there were "no obvious reasons for the failure", Renault Sport's F1 Deputy Managing Director Rob White has revealed the company are putting safeguards in place to ensure there is no repeat next week at Silverstone and beyond.
THE ONLY PLACE TO BE
Sky Sports F1 HD is THE only place to watch the 2012 Formula 1 season in full live. Our extensive coverage continues with the British Grand Prix on 6 -8th July.
FRIDAY 6th - P1 from 9.45am. P2 from 1.45pm
SATURDAY 7th - P3 from 9.45am. Q from 12pm
SUNDAY 8th - Race from 11.00am
To find out all the different ways to watch the action, click here
"We are looking at several solutions," he said.
"The first is to use another batch of alternators for Silverstone across all our clients, or a slightly modified design. We are also looking at returning to an older specification of alternator from 2011.
"Then we are working across all our partner teams to potentially introduce some mechanical and cooling solutions, or changing a few settings on acceleration maps so the running is less severe.
"All of these will be in evaluated between now and Silverstone, plus we will also look at everything after Friday running and see what additional measures we may need to take."
Indeed White suspects the problems may have been caused by a quality control issue as when asked if the parts had been at the end of their expected life, he replied: "No, in fact they were brand new parts, which points to the fact that this may be an issue with a particular batch of alternators.
"Both had been shaken down on the dynos at Viry for approx 400km and completed FP3 and qualifying without any issues and then failed suddenly in the race. Both had completed less than 1,000km."
The Renault chief, however, insists the failures weren't triggered by the slower laps spent behind the Safety Car - revealing that this actually prolonged the part on then race leader Vettel's RB8.
"We had evidence that the alternator on Sebastian's car was showing signs of overheating before the Safety Car period, but the slower speeds prolonged its life expectancy slightly. Of course, when Sebastian went back up to racing speed the problem stepped up again and the result is now well known," White added.
"With Romain's, the problem occurred very suddenly some laps after the Safety Car had been withdrawn."