On the right track
'Gemili will develop by soaking up the Olympic atmosphere'
Last Updated: June 27, 2012 3:57pm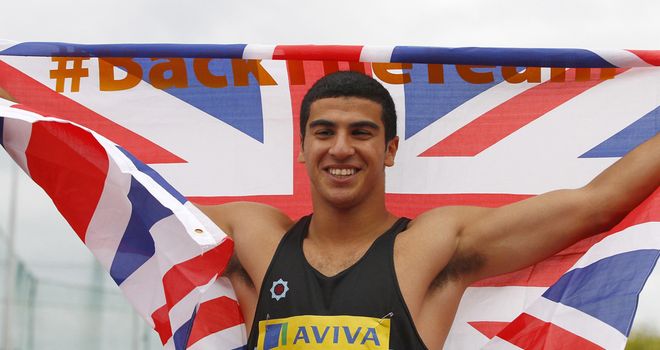 Gemili: the teenager has a bright future
Sprint sensation Adam Gemili should use the London Olympics as a springboard.
"If Adam is able to develop physically and mentally who's to say that one day he won't challenge Usain Bolt."
Darren Campbell Quotes of the week
That's the view of former athlete Darren Campbell after the teenager finished second in the 100metres at last weekend's British trials to book his place at the 2012 Games.
Gemili had already collected the 'A' qualifying standard required to compete in London after running 10.08 seconds in a meet in Regensburg, Germany on June 2, and a top-two finish in Birmingham guaranteed him a spot in the British squad.
Campbell - who won a 200m silver medal during the Sydney Olympics in 2000 - does not expect Gemili to trouble the elite sprinters in the capital this summer, but says the former semi-professional footballer will glean plenty from his involvement.
"I was speaking to Adam on Saturday and you could see he was mentally drained by what he'd been through but all these things will help with his development," Campbell told Sky Sports News.
"He is only 18 and it was his first time competing in the Seniors Championships, which were the Olympic trials as well, and he has performed extremely well.
"The big question is how far can he go? He has run 10.11 seconds and 10.08 seconds, and I think only Dwain Chambers has run quicker for Britain at the same age.
"That gives you an idea of how talented he is but, for me, going into this Olympics is all about experience and understanding what it feels like to compete at the Games.
"We're talking about a young man who has come from semi-pro football and within two years is going to the Olympics.
"What he has achieved so far is amazing and if he is able to develop physically and mentally who's to say that one day he won't challenge Usain Bolt."
Calibre
Dwain Chambers will be able to compete in London after his lifetime Olympic ban for taking drugs was overturned by the Court of Arbitration for Sport.
The 34-year-old edged out Gemili to win the 100m final in Birmingham and looks likely to be selected for the Games despite not accruing the 'A' standard time this season.
However, Campbell thinks the fact a veteran in Chambers and a virtual athletics novice in Gemili are set to represent Britain this summer shows a lack of strength in depth in the nation's sprinting.
"Over the last four years Dwain Chambers has shown that he is able to challenge the best in the world; he has made the top finals and there is no doubting the calibre of athlete he is," said Campbell.
"But after fighting so long to have the opportunity to compete in London, he would say himself that his form hasn't been exceptional.
"He still has four or five weeks to get into shape, but unless he can find a good two or three tenths on the times he has been producing he will struggle to make the final.
"If we are being honest it does show a slight decline [in the standard of British sprinting], when you think a young man like Gemili, who has been in the sport for two years, can make the Olympic team.
"Marlon Devonish and Chambers are coming to the end of their career and it is for the youngsters to step up to the next level.
"Sprinters have not been making finals and that is always disappointing but having someone like Adam, who is young and could be around for a long time, will hopefully bring the rest of them on."
Phenomenal
Usain Bolt, who broke the Olympic 100m record at the Beijing Games in 2008 and the global record at the World Championships in Berlin a year later, will be the man to beat in London.
The Jamaican could receive stern challenges from countryman and reigning World Champion Yohan Blake and American star Tyson Gay, but Campbell says that whatever Bolt achieves in Stratford, he will do it with his usual panache.
"Usain is saying that he wants to run 9.4 seconds in London, and if he is 100 per cent healthy who is to bet against him," added Campbell. "I've watched him over the years do phenomenal things and he would love to break the Olympic record in 2012.
"The key thing for Bolt is that he likes to entertain; it's not just about running. He would be the best rock star in the world, or the best footballer because he likes to go into the stadiums, feel an atmosphere and perform for people.
"He knows the British public love athletics and understand sport. The atmosphere in the stadium will be electric and he will feed off that.
"Watching Bolt run in finals is like walking on air and that's why we get caught up when he goes out and performs."