Grabarz aiming big
High jumper confident of gold in Helsinki and London
By Chris Hammer. Last Updated: 26/06/12 1:46pm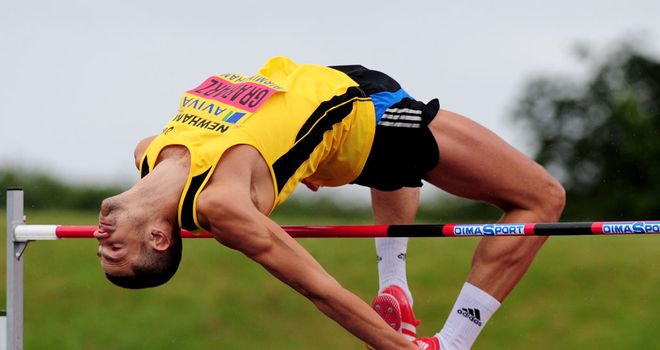 Grabarz: Enjoying a superb season
Robbie Grabarz insists he must continue to "aim big" as he heads to the European Championships searching for what could be the first of two gold medals this summer.
The 24-year-old high jumper has emerged as one of Great Britain's best hopes for an Olympic track and field medal at London 2012 following a superb season so far and will have the chance to maintain his momentum in Helsinki this week.
Grabarz, who lost his lottery funding last season after failing to qualify for the World Championships, guaranteed his Games spot with victory at the Aviva Trials in Birmingham on Sunday although his winning clearance of 2.28 metres was eight centimetres short of the personal best he set in New York earlier this month.
The Fayyaz Ahmed-trained athlete admits he didn't feel too confident on reaching London based on his 2011 form but feels all the progress he made over the winter made him believe in his Olympic dream.
Grabarz, second in the world rankings behind Russia's Ivan Ukhov, said: "I didn't believe it probably last year but it's all turned round over the winter and now I've achieved it.
"My expectations haven't changed but I think more people are going to be asking me about it. I'm aiming for the gold medal but you have to do. If you want something you've got to believe it's possible.
Hard work
"I train hard and I'm meeting my targets. I'm playing a bit of catch up from last year so onwards and upwards from here.
"I would have liked to have jumped higher in Birmingham but it was more of a question of winning and booking my place on the team.
"I'm now going to the Europeans where I'll look to win. You've got to look big and aim for gold. You've got to aim big."
The Newham and Essex Beagle insists he has no grudges about being dropped from the funding program and is sure further good performances will see him backed in the future.
"You're performance proves what you're up to and last year I wasn't performing," said Grabarz, who has been aided in his quest by money from Steve Backley and Roger Black's company BackleyBlack.
"Nobody is going to support someone who isn't performing. It's quite simple. When you start performing more people are going to help you out."