Nalbandian could return
Argentinean keen to put disqualification behind him
Last Updated: 18/06/12 4:29pm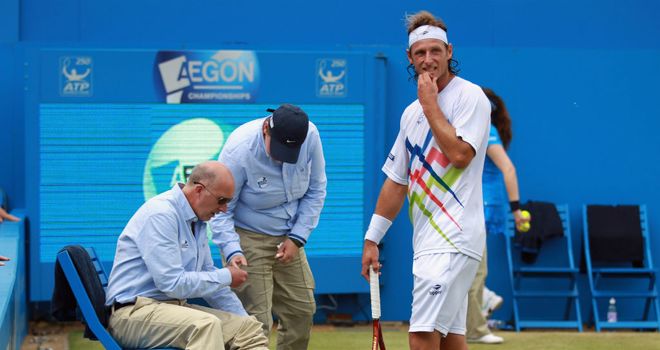 David Nalbandian: Could return to Queen's next season
David Nalbandian has refused to rule out returning to Queen's next year despite being disqualified in Sunday's final.
Nalbandian won the first set of his AEGON Championships final at Queen's but lost his temper in the second set after being broken by opponent Marin Cilic.
After missing a lunging forehand Nalbandian kicked an advertising hoarding in front of the chair of line judge Andrew McDougall.
The hoarding flew off its hinges and struck McDougall in the shin, causing an inch-long gash from which blood started to seep.
Nalbandian was disqualified after being deemed guilty of unsportsmanlike conduct and he suffered further pain when he had his £36,500 prize money withdrawn and heard he could be hit with a £6,400 fine.
Yet despite the incident, Nalbandian hopes to return to the Wimbledon warm-up event next year.
"This incident doesn't mean that I'm not going to come back," Nalbandian said.
"It doesn't matter. I really feel good at this tournament.
Mistakes
"The tournament director is great to me and I like it.
"This is a bad situation for everybody and I really apologise for that but it doesn't mean anything to next year."
Tournament director Chris Kermode stopped short of saying the 10th seed would definitely be allowed back, but conceded banning the player would be highly unlikely.
"Look, mistakes happen," he said. "I haven't really thought about next year, but you can ask me again in a couple of weeks.
"There was no way he intended to do that. It would be foolish to say he's not welcome back to this tournament.
"The tennis he's played this week has been phenomenal and the crowd like him.
"You could tell by the crowd that they wanted him to play, so, you have to forgive these things and move on."