Ramdin punished over note
Player pleads guilty to Level 1 offence after celebrating reaching ton
Last Updated: 11/06/12 5:15pm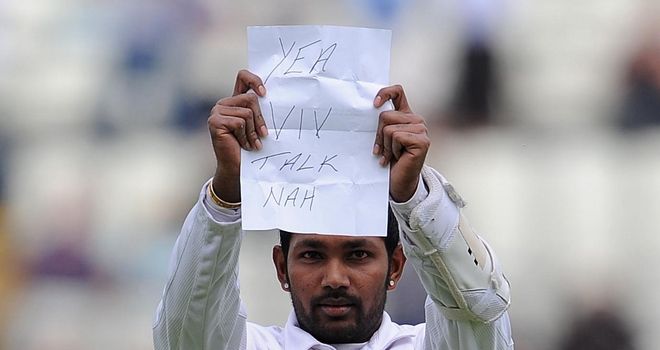 Denesh Ramdin: unusual celebration after reaching three figures at Edgbaston
West Indies wicketkeeper Denesh Ramdin has been fined 20 percent of his match fee for breaking the International Cricket Council's code of conduct.
The 27-year-old was handed the punishment for the way he celebrated his century on day four of the third Test against England on Sunday.
On reaching three figures for only the second time in Test cricket, the Trinidadian held up a sheet of paper, which read: 'Yeah Viv, Talk Nah'.
Ramdin, was thought to be a reacting to criticism Sir Viv Richards levelled at him with the sign, pleaded guilty to the Level 1 offence, contrary to clause 2.1.8 (a), which relates to "conduct contrary to the spirit of the game".
"It is important that we do not allow a precedent to be set with such a premeditated celebration by Mr Ramdin," match referee Roshan Mahanama said.
"We all understand the importance of celebrating a milestone, however, one should not use that time as an opportunity to hit out at one's critic or send messages to the world.
"I hope Mr Ramdin has learnt his lesson from this incident and that we will not see such behaviour by him or any player in the future when celebrating an achievement within a game of international cricket."