Tanner targets six medals
Rowing boss wants to match Beijing effort this summer
Last Updated: 07/06/12 8:20am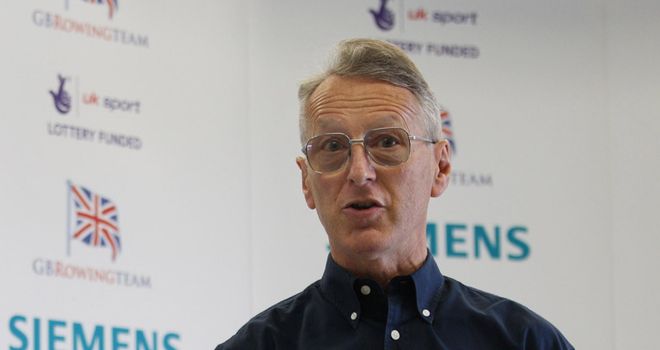 David Tanner: Six medals 'upper end of GB target'
GB Rowing performance director David Tanner is confident Great Britain can remain as the sport's leading Olympic nation at London 2012.
Britain topped the medal table at the Beijing Games in 2008 with six medals - winning two of each colour - and did so again at last year's World Championships.
"We are strongly ambitious and well prepared. This is our best team, no question "
David Tanner Quotes of the week
This summer, Britain will field their biggest ever Olympic rowing squad with 52 athletes on duty at Eton-Dorney in 13 of the 14 available boat classes.
"Our ambition is to defend our position as the leading Olympic nation," Tanner said.
"That took six medals in Beijing and I am happy to go on record as saying six is the number we need to achieve that. That is at the upper end of our target.
"We are strongly ambitious and well prepared. This is our best team, no question.
"We have greater strength and depth than we have ever had and we definitely have some excellent medal chances in our team."
Gold medal hopes
Britain will head into the Olympics with four strong gold-medal opportunities - in the men's four, the men's lightweight double, the women's double and the women's pair.
Reigning champions Andrew Triggs Hodge, Pete Reed and Tom James are joined in a powerful men's four by reigning world champion Alex Gregory.
The flagship British crew broke the world record at the last World Cup regatta in Lucerne and held off a strong challenge from Australia to win gold in the final.
World champions Mark Hunter and Zac Purchase will defend their Olympic title in lightweight men's double, although they need a rapid improvement from their disappointing Lucerne showing.
Britain are aiming for their first women's Olympic gold medal this year, with world champions Katherine Grainger and Anna Watkins the leading hope in the double.
The women's pair of Helen Glover and Heather Stanning also boast gold-medal ambitions.
Wednesday's squad announcement confirmed that Greg Searle would be returning to the Olympics at the age of 40, two decades after he won gold in Barcelona.
Searle will race in the eight, which was due to be stroked by Constantine Louloudis but the 20-year-old has not raced all year because of a back injury.
Time appears to be running out for Louloudis, who had taken a year off from his Classics degree at Trinity College, Oxford, to train for the Olympics.