Trott admits Pietersen blow
Batsman disappointed, but not surprised by KP retirement
By Joe Drabble - Twitter: @SkySportsDrabs. Last Updated: 05/06/12 3:47pm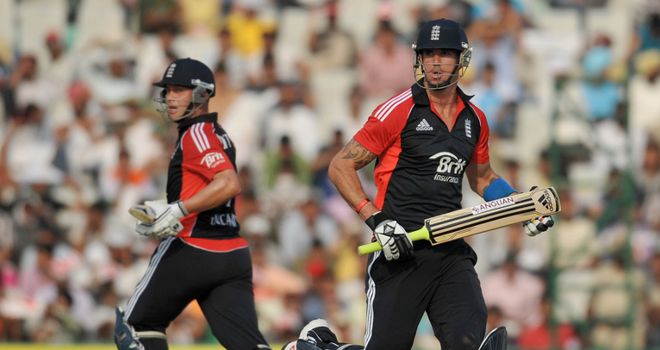 Jonathan Trott and Kevin Pietersen batting together for England in the shorter form
Jonathan Trott admits Kevin Pietersen's retirement from limited-overs international cricket is a "huge disappointment" for England, but insists the team fully respect the decision.
Pietersen, 31, announced his retirement from limited-overs internationals last week, leaving England with a notable void to fill in their batting line-up ahead of summer series against West Indies, Australia and South Africa, as well as the Twenty20 World Cup in Sri Lanka.
But as England reconvened for the third Investec Test against West Indies at Edgbaston, Trott, the first of his colleagues to speak publicly on the matter, made it clear he for one was not taken unawares by Pietersen's change of heart.
He said: "It wasn't a huge surprise. You can understand it in a way, but it's a huge disappointment as well.
"Kev's his own guy and has to make his own decisions. The team fully support his decision. Whatever he decides to do with his cricketing career is fine."
Frustration
Missing in the shorter term for England is fast bowler James Anderson, rested for the third and final Test to try to ensure his readiness for a packed schedule to come.
Trott understands both Anderson's apparent frustration at being denied the opportunity to add to his 267-wicket tally against the Windies in Birmingham, and the thinking behind trying to preserve one of England's prime assets.
"It's happened in the past, and probably will in the future as well - with the schedule getting busier and busier," he said. "It's only right that these things happen.
"Jimmy would have liked to have played, and quite rightly. He's the spearhead of our bowling attack, and you can understand that he will probably be a little bit disappointed.
"But with the bowlers and their heavy workload, it's going to happen from time to time.
"It's not as if you're giving away international caps. We have guys who are vying to play, and whoever takes his place should do a great job."
As for the prospect of completing a series whitewash on his home ground, Trott reports world number ones England are in hungry mood.
"We've got the opportunity to win 3-0, so it's really important we drive home that advantage and don't take our foot off the gas," he said.