Britain rule in Barcelona
Adlington the pick of the bunch as GB swimmers win five races
Last Updated: June 2, 2012 6:49pm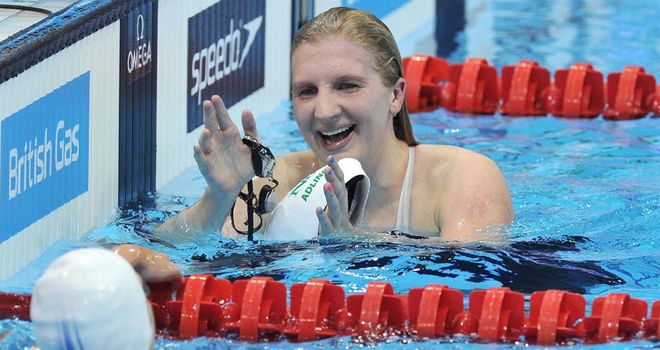 Rebecca Adlington: Set a new championship record in 800m freestyle
British swimmers dominated the opening day of the Mare Nostrum series meeting at Barcelona as they claimed a total of 13 medals, including five golds.
Double Olympic champion Rebecca Adlington produced arguably the strongest British performance of the day as the won the 800 metres freestyle in a championship record of 8 minutes 19.86 seconds.
Adlington led from the front and had built a lead of over two seconds at the halfway stage before finishing strongly ahead of Spain's Mireia Garcia Belmonte, the world short-course silver medallist.
World open water champion Keri-anne Payne was fourth, over 20 seconds behind Adlington's winning time.
"I'm very pleased with that swim. To be honest I never expected to finish in that sort of time given the training I've been doing at this stage of the season," Adlington said.
"I swam here two years ago and went 8:21.00 off the same kind of preparation so to post that time tonight is a bit of a shock.
Surprising
"I haven't backed off this week and am training right through which makes this kind of performance even more surprising."
Hannah Miley and Aimee Willmott claimed gold and bronze respectively in the 400m individual medley, with Miley was chased closely by her compatriot until she pulled away at the end of the breaststroke leg.
The Garioch swimmer continued to stretch the field and touched in 4:34.68, Belmonte took silver and Willmott the bronze in 4:40.12.
Miley secured her second medal of a busy night at the Sant Andreu Club Natacio when she won bronze in the 200m breaststroke.
Georgia Davies claimed victory in the 100m backstroke in 1:00.87 while fellow Swansea ITC swimmers Jaz Carlin and Jemma Lowe were third in the 200m freestyle and 100m butterfly respectively.
Chris Walker-Hebborn posted a season's best time of 1:59.04 to win the 200m backstroke, European silver medallist James Goddard won the 200m individual medley in 2:00.95 and Stockport ITC team-mate David Carry was edged out in the 400m freestyle by Sebastien Rouault.
Michael Jamieson was second in a 100m breaststroke race dominated by world championship bronze medallist Cameron van der Burgh, while Rob Pavoni and Matt Johnson took silver and bronze in the 200m butterfly.