Injury setback for Bulls
Diskin and Kopczak facing three months out
Last Updated: 30/05/12 5:34pm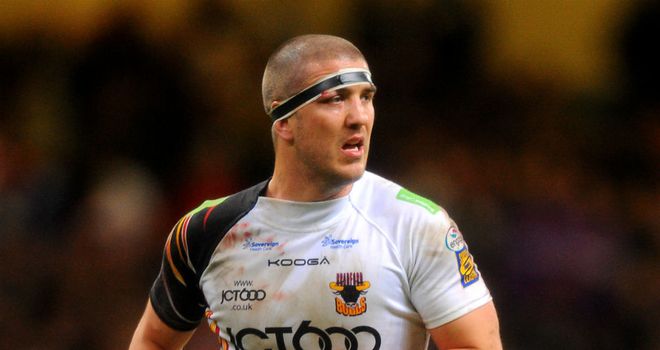 Matt Diskin: Has dislocated a shoulder
Bradford forwards Matt Diskin and Craig Kopczak could miss the rest of the season after suffering serious injuries against Leeds.
The Bulls are still coming to terms with the loss of centre Adrian Purtell, who suffered a heart attack after Sunday's 37-22 defeat at Manchester's Etihad Stadium, and their problems worsened when coach Mick Potter revealed Diskin and Kopczak have been sidelined.
Hooker Diskin dislocated a shoulder and will lose an ever-present record this season, while prop Kopczak sustained ankle ligament damage and is facing at least three months.
On top of that, Bradford have lost winger Elliott Kear with a broken wrist and centre Chev Walker with a broken rib.
Contact
"Kopczak's ankle got caught after he was rolled back over by a couple of players and he needs an ankle operation," Potter said.
"Matt Diskin got flipped over and landed on his shoulder and he'll need an operation as well.
"It's unfortunate to lose two of our top-liners for at least three months.
"We were saying a week ago that we were starting to get players back and we lose five in one match so we're back to where we started.
"It's the nature of a contact sport but it's happening to us just a little too much at the moment.
"It puts a bit of a dent in us but we'll fill the void."
Potter is likely to bring in Adam O'Brien, Danny Addy, Tom Olbison and Ian Sibbit for Bradford's next match, at home to Castleford on Monday night.