Pietersen happy to be tested
England star already thinking ahead to South Africa showdown
Last Updated: 22/05/12 2:27pm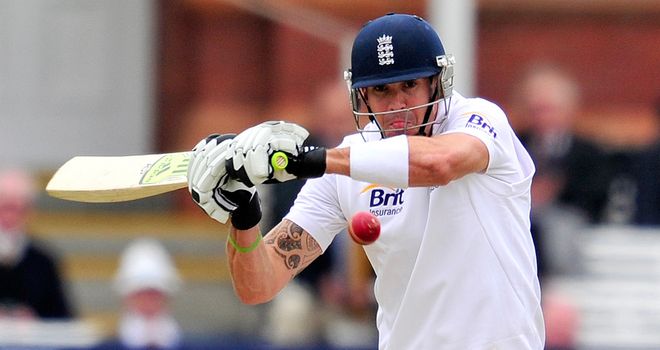 Kevin Pietersen: Is relishing a competitive series against West Indies
Kevin Pietersen believes England's minor scare against West Indies at Lord's will serve as good preparation for the rest of the summer.
The hosts claimed a five-wicket victory in the first of a three-Test series, although that result looked far from certain early in the final day of the contest.
After watching the tourists build a bigger than ideal lead on Sunday thanks to a fifth-wicket stand of 157 between Shivnarine Chanderpaul and Marlon Samuels, England slipped to 57-4 as they tried to chase down 191.
But the Windies' challenge eventually faded, leaving England to complete the win and go one-up ahead of the second Test at Trent Bridge starting on Friday.
And Pietersen insists that being made to fight against a side six places below them in the Test rankings is not a bad thing as he thinks it will be a useful taste of what is to come when South Africa try to take top spot away from them in July and August.
"We were tested in the winter a lot more than we thought we were going to be tested - we got hammered against Pakistan. We've been put through our paces a lot," Pietersen told Sky Sports.
Impressive
"I think what really impressed the team and really impressed the management was, when we struggled to take that wicket on Sunday, the guys did their jobs, they stayed in their bubbles and didn't get frustrated.
"I think that's a real positive going into this next series in a month or two's time, because South Africa aren't going to be a walkover and we could find ourselves in a lot of trouble.
"(But) as long as we keep calm, stay in our bubbles and concentrate on what we do, it will stand us in good stead. So to be tested like we were tested the other day was good I think."
Pietersen also had words of praise for skipper Andrew Strauss, who ended his 18-month drought of Test centuries by making 122 in the first innings.
He added: "I've been through it, Cook's been through it, Trott's been through it, Bell (too). We all go through these periods - it's flavour of the month (as to) who is going to get it from the media.
"He obviously got for it a little bit but the man has got back-to-back Ashes captaincies under his belt, he's got 20 Test hundreds now, he's a very good leader of men and everybody likes him.
"So it was only going to be a matter of time."